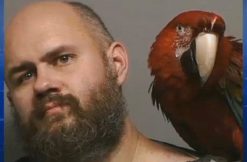 Oregon man Craig Buckner is in jail, but at least he got to take a mugshot with his parrot. Washington County Court Security Deputy Shoana McKelvey talked about how it happened in a KPTV interview.
She said Buckner turned himself in for violating a release order, but he actually brought his bird, expecting a light punishment. He put the bird on a tree outside the Washington County courtroom, and walked in. But when a judge ordered him behind bars, he started worrying about his bird.
McKelvey said she went outside, and found the agitated parrot still in the tree, which was getting circled by a murder of crows.
"This was Mr. Buckner's pet," she said. "He has had this bird since it has been hatched. I could just tell how concerned he was when he went into custody, this bird was so special to him."
She brought the bird inside, hence the mugshot. A friend is taking care of the parrot while Buckner sits behind bars.
Jail records obtained by Law Newz.com shows that the 38-year-old remains behind bars on $10,000 for five counts of violating a release agreement. It was reportedly over several misdemeanor theft cases.
[mugshot via Washington County and KPTV]
Have a tip we should know? [email protected]