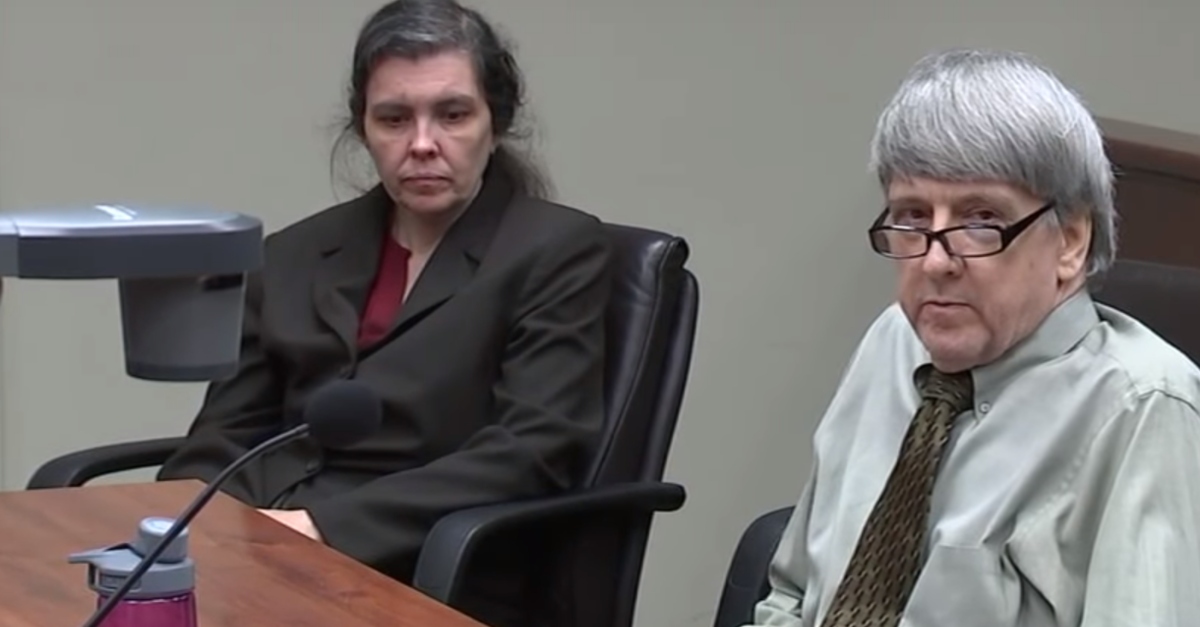 California couple Louise Anna and David Turpin pleaded guilty on Friday in the abuse case involving their 13 children.
David and Louise Turpin have just pled guilty to each of the 14 counts, including one count of torture.

— Riverside County DA's Office (@RivCoDA) February 22, 2019
Prosecutors previously said that the 12 eldest were subjected to horrific abuse. Only the youngest, a 2-year-old, seemed healthy. The plea deal cancels a trial set for next September. Authorities dropped perjury changes. Sentencing is set for April 19.
The perjury charges against David Turpin are being dismissed. The Turpins are being asked how they plead. They are saying "guilty" out loud. pic.twitter.com/iQk4mYS2f5

— Brian Rokos (@Brian_Rokos) February 22, 2019
Sentencing will take place at a later date. April 19th is the date set.

— Leticia Juarez (@ABC7Leticia) February 22, 2019
Over the months, prosecutors in Riverside County, California established an array of allegations against the Turpins: that their children were malnourished; that the children were chained to their beds; that the children suffered other physical attacks; that Louise Turpin choked one daughter, and threatened to kill her for watching a Justin Bieber video; that David Turpin sexually assaulted this same girl. Their home was referred to as a "torture house" in the media.
#Turpin – We're hearing a plea deal is in the works. Hearing is happening now. David and Louise Turpin are charged with nearly 50 counts of torture, false imprisonment and child abuse. pic.twitter.com/QqOFRefElq

— Cathy Russon (@cathyrusson) February 22, 2019

That horrific abuse ended January 2018, said officials. One of the daughters, a 17-year-old, escaped from the residence, and found help. She was so badly underfed, she looked to be 10 years old, said deputies. Investigators said they found some of the children shacked to beds with chains and padlocks. The home was described as "dark and foul-smelling." Prosecutors later said that the oldest victim, a 29-year-old woman, only weighed 82 pounds.
David's attorney, Deputy Public Defender David J. Macher (pictured) declined to comment. Louise's attorney, Jeff Moore, would say only that the deal gives the Turpins a chance to get out of prison if paroled – but could face life in prison if they violate parole. pic.twitter.com/uwlm56QRai

— Brian Rokos (@Brian_Rokos) February 22, 2019
[Screengrab via ABC 7]
Have a tip we should know? [email protected]