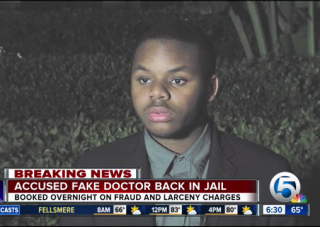 Kids these days, right? Malachi Love-Robinson, the Florida teenager who posed as a doctor with his own clinic in Tampa, is back in jail. West Palm Beach's WPTV reports that Love-Robinson, 18, was booked at Palm Beach County Jail late Tuesday night, charged with larceny of over $20,000, five counts of fraud, and using another person's identity without their consent. This is after his February 16 arrest for theft and practicing medicine without a license.
Love-Robinson gained national notoriety after allegedly running his New Birth, New Life Alternative Medicine and Urgent Care Clinic without a license or medical training. He was also accused of stealing checks from a patient.
In January of last year, he was caught sneaking into a patient's room wearing a mask and stethoscope, and in October was warned by the Florida Department of Health for practicing massage therapy without a license. In 2014, he reportedly went around to different schools, posing as a doctor to try to join their medical staffs. He told police then that he is not a medical doctor and is a compulsive liar. At least he's honest about that.
The Palm Beach Post says Love-Robinson is scheduled to appear in court on the new charges Wednesday morning.
[h/t and screengrab via WPTV]
Have a tip we should know? [email protected]