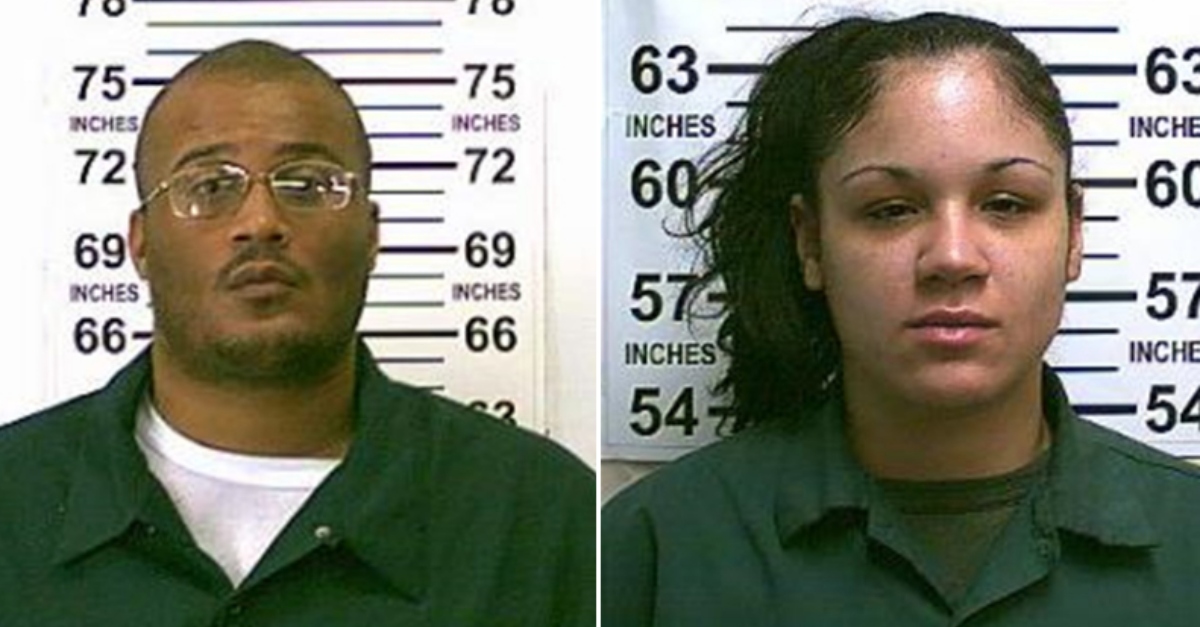 Cops just identified the people charged in the murder of 25-year-old Lisa Marie Velasquez. Reports indicate that her friend, 30-year-old Ciara Martinez, and Martinez's 31-year-old boyfriend Daquan Wheeler face charges in this horrific beating, and dismemberment, according to ABC 7 NY. But it seems like like one of the suspects already has a defense ready to go.
The discovery of Velasquez's body parts set off a nearly week-long manhunt for anyone responsible. First, bags containing her dismembered corpse were found near Crotona Park in the Bronx, and under a pier in the Hunts Point neighborhood.
I want to thank the men and women of the 42 Detective Squad, Bronx Homicide and all who worked on the murder case of Lisa Marie Velasquez. Your collective efforts led to those responsible for her murder. Two perpetrators are now in custody. #Bronx @NYPDnews @NYPDChiefofDept pic.twitter.com/LBTKQawoNW

— Chief Dermot F. Shea (@NYPDDetectives) August 30, 2018
It turns out that Velasquez was murdered after trying to help Martinez out of the relationship, police sources said in a New York Post report. She was last seen alive August 22. Martinez had been having a "tough time" with her boyfriend Wheeler, and she invited Velasquez to her apartment to help out, police claim.
Velasquez gave some pretty straightforward advice: Leave Wheeler. She even called 911, and cops arrived at the home to write up a domestic incident report. Wheeler wasn't there at the time, but he came back after cops left. According to police, he became furious that Velasquez called 911. He allegedly beat her to death with a hammer and dismembered her corpse.
This represents the most horrific kind of déjà vu for this family. The victim's aunt Jacquline Perez told the outlet that her sister and Velasquez's mother Marilyn Ginel was murdered in front of Lisa Marie and her two young siblings 12 years ago in their apartment.
Wheeler is charged with murder, manslaughter, concealment of a human corpse, tampering with physical evidence and criminal possession of a weapon. Martinez is charged with criminal facilitation, hindering prosecution, concealment of a human corpse, tampering with physical evidence and conspiracy. Martinez seems ready, however, to publicly pin the blame on Wheeler.
Police led her out in handcuffs from the 42nd Precinct on Wednesday night, and called Velasquez "my friend."
"I love her," she said.
According to sources in the Post report, Martinez insisted to cops that she didn't stop Wheeler from committing murder because he threatened to kill her too.
The couple reportedly had a history of domestic violence. Wheeler has criminal convictions on his record for attempted burglary and attempted robbery. He was even convicted of attempted murder and spent four years in prison before getting paroled in 2012.
It's unclear at this time if Wheeler and Martinez have attorneys in this matter. A clerk with the Bronx Supreme Court confirmed to Law&Crime that they still have to be arraigned.
[Mugshots via New York State Department of Corrections and Community Supervision]
Have a tip we should know? [email protected]