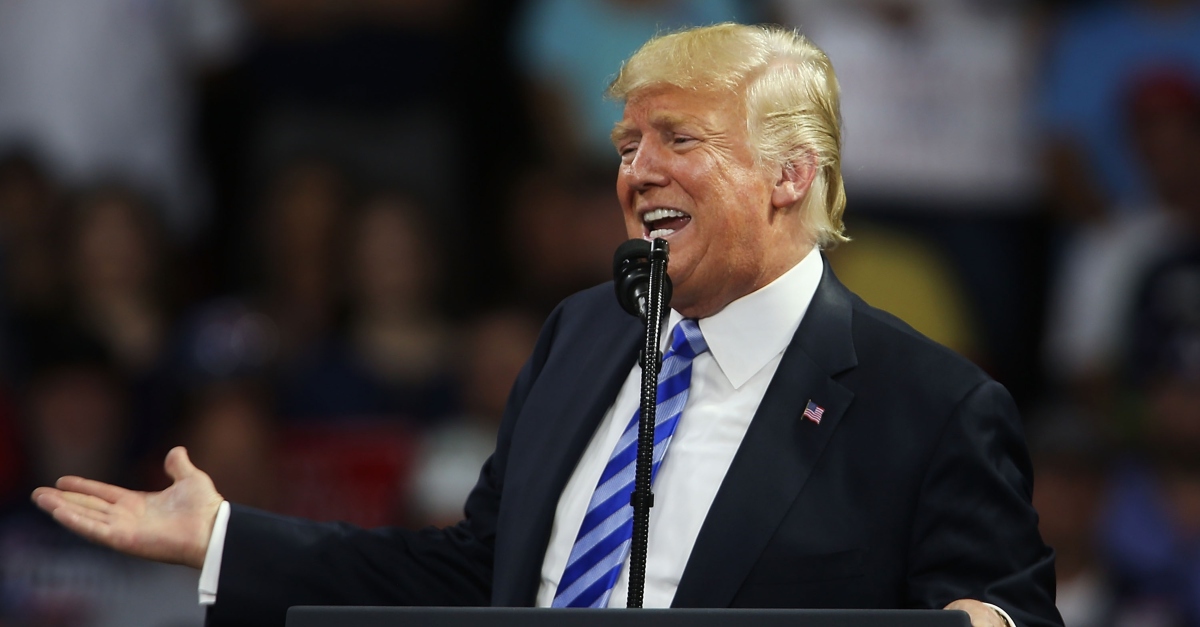 Congressional Republicans may be itching for a renewed fight with the nation's leading search results provider.
On Thursday, Senator Orrin Hatch (R-UT) sent a letter to the Federal Trade Commission (FTC) requesting the agency reopen an investigation into whether Google's business practices constitute illegal antitrust activity in violation of federal law.
In the letter, addressed to FTC Chair Joseph Simons, Hatch begins:
I write to express my concern about recent reports on Google's search and digital advertising practices. In the past, Google has placed restrictions on publishers' displaying search advertisements from its competitors. Google loosened some of those restrictions when faced with antitrust complaints…
The implication there seems clear enough. In recent days, concerns over Google's manipulation of search engine data have risen to the fore following a very early morning tweet sent by President Donald Trump railing against the Silicon Valley tech giant. On Tuesday, Trump wrote:
Google search results for "Trump News" shows only the viewing/reporting of Fake News Media. In other words, they have it RIGGED, for me & others, so that almost all stories & news is BAD. Fake CNN is prominent. Republican/Conservative & Fair Media is shut out. Illegal?
That's not actually how Google's algorithm works but Trump's comments did reignite the debate over Google's power and potential abuses thereof. In fact, Hatch's letter makes clear that while his request is piggybacking off the recent presidential Twitter controversy, Hatch himself isn't necessarily buying into the White House-constructed narrative surrounding Google's behavior.
Hatch's FTC request contains exactly zero references to alleged silencing of conservative–or any politically-oriented–viewpoints. Rather, Hatch's request focuses on allegations that Google has been an improper steward of user data while simultaneously engaging in anti-competitive behavior.
In regards to data and privacy concerns, the letter notes:
[I]n the past several months, several of my Senate colleagues wrote to Alphabet, Google's parent company, regarding its data collection by the Android mobile operating system and privacy practices for Gmail users' data, including Google's practice of giving third-party app developers access to the actual content of emails.
Most of the letter's substance, however, hones in on antitrust concerns. Hatch writes, "Although these reports concern different aspects of Google's business, many relate to the company's dominant position in search and accumulating vast amounts of personal data. That is why I also write to urge the [FTC] to reconsider the competitive effects of Google's conduct in search and advertising…the procompetitive aspects on conduct should be weighed against its anticompetitive potential."
Hatch makes this point with an illustrative example of how Google has amassed more power–even after federal regulators essentially assured themselves they'd done a good job by letting Google off the hook during the Obama administration.
The letter calls out this apparent mistake:
When the FTC closed its investigation into Google's acquisition of AdMob in 2010, it based its decision partly on its "belie[f] that Apple quickly will become a strong mobile advertising network competitor." That belief never became a reality. Instead, by many measures, Google's position throughout the ad market…has become more dominant.
The letter brings the anti-competition argument full circle with privacy concerns by noting, "And Google accumulates data at essentially every step."
[image via Spencer Platt and Getty Images]
Follow Colin Kalmbacher on Twitter: @colinkalmbacher
Have a tip we should know? [email protected]