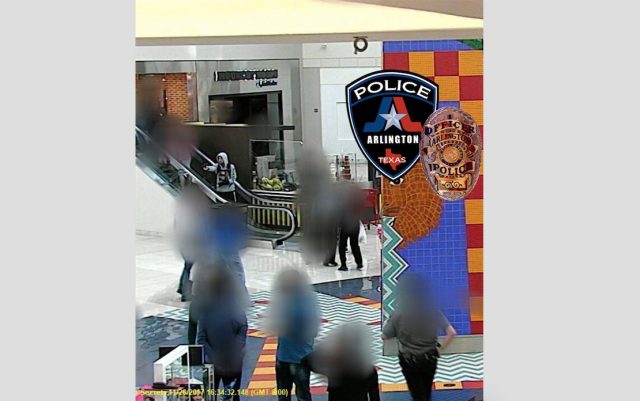 A police officer shot a man in Texas after the latter pulled out a BB gun in a busy shopping mall on Sunday.
The injured man was being tailed by police after allegedly redeeming a five-finger discount from the Sunglass Hut at the Parks Mall in Arlington. Officers with the Arlington Police Department responded to that shoplifting call at roughly 4:30 p.m. on November 26.
Two officers gave pursuit through the crowded mall after identifying the suspect, who had allegedly stolen two pairs of sunglasses. One officer took the upper level and another took the lower level, radioing each other as to their mark's whereabouts. Eventually, the wanted man boarded an up escalator near the food court and spun around to face the officer pursuing him on the lower level.
As the suspect and the officer squared off against one another, the suspect withdrew his mostly harmless air weapon and aimed it at the officer, who responded in turn–with a real gun–and shot him.
The mall was then evacuated and closed early. Investigators later learned the man's gun was just a realistic-looking toy.
Lt. Chris Cook, with the Arlington Police Department, said, in an interview with the local NBC affiliate, "We have done a lot of news stories over the past two years about how tragic these things can occur because an officer cannot distinguish between a legitimate, true firearm and an imitation replica firearm."
Arlington Police Chief Will Johnson echoed his lieutenant's sentiment, noting, via Twitter:
Replica imitation firearms/BB guns have no place in society when used in criminal endeavors. There is no training that would allow officers to distinguish between what's real & what's fake in a matter of seconds. We will continue focusing efforts on new legislation.
The suspect was taken to a nearby hospital and is currently being treated for his injuries.
Police have yet to release the names of either the suspect or the officer who shot him.
[image via Arlington Police Department]
Follow Colin Kalmbacher on Twitter: @colinkalmbacher
Have a tip we should know? [email protected]