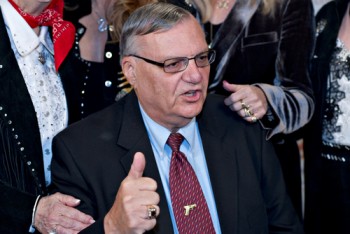 Maricopa County Sheriff Joe Arpaio plans to hold a news conference on Thursday where he will announce the "newest" revelation about his investigation into President Barack Obama's birth certificate.
#BREAKING: @RealSheriffJoe will be presenting "newest" revelation to investigation of President Obama's birth certificate on Thursday.

— ABC15 Arizona (@abc15) December 14, 2016
Details of the announcement are still sketchy, at best.  However, a local news outlet in Phoenix is reporting they will carry the news conference tomorrow live online at 4:00 p.m. local time. Chief Investigator Mike Zullo is reportedly also expected to appear with Arpaio at the press conference.
Last month, the 84-year-old longtime sheriff of Maricopa County in Arizona lost his re-election bid  to Democratic challenger Paul Penzone, who will formally take office on January 7, 2017.
President-elect Donald Trump regularly invoked Arpaio's name on the campaign trail, essentially saying the endorsement of Sheriff Joe was indication that he would be tough on immigration.  Although, the relationship between the two men actually goes back to when Trump was a "birther" himself.  Arpaio and Trump were two of the most high profile purveyors of the Obama birth certificate theory in the past.  However, Trump backed away from the issue in September of this year when he admitted Obama was born in the United States.
Arpaio has regularly clashed with federal authorities in recent years over his so-called immigration patrols.  He faces criminal contempt charges for allegedly ignoring federal court orders regarding the practices of his department.
However, he did get some good news today as ABC News is reporting federal prosecutors have dropped felony charges against him related to his refusal to turnover hard drives.  A judge ruled the statute of limitations bars prosecutors from bringing those charges.
Nonetheless, he is still expected to face a misdemeanor criminal contempt trial in April.
[image via screengrab]
Have a tip we should know? [email protected]