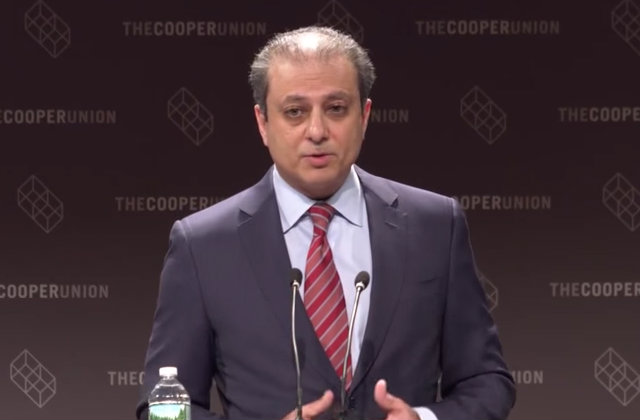 It's obvious that former U.S. Attorney Preet Bharara dislikes President Donald Trump, and that pattern continued Friday. He's blasting the POTUS on Twitter yet again. This time it's over the White House's decision to not release its visitor logs.
Yet another drainage problem in the swamp, it seems. . . https://t.co/UqPJYwRjms

— Preet Bharara (@PreetBharara) April 15, 2017
Bharara's Friday night tweet is in response to an article from The Hill, which pointed out blowback from a relevant 2012 tweet. Trump said that then-President Obama was being overly secretive.
"Why is Barack Obama spending millions to try and hide his records," Trump wrote, without clarifying his evidence or reasoning. The Hill suggests he was inspired by a Daily Caller article on Michelle Obama's vacation expenses. "He is the least transparent President–ever–and he ran on transparency."
That Hill article pointed out that the president's critics accuse him of hypocrisy since on Friday, the White House announced they won't be releasing anymore visitor logs for the president and his senior staff. They cited national security and privacy concerns. This ends a practice started by the Obama administration.
So Bharara's definitely on the anti-Trump train, going as far as to co-op one of the President's catchphrases: Drain the Swamp. Shade seems to be his M.O. on social media. That how he responded to his firing.
This holdover from the previous administration used to work out of the Southern District of New York. In March, Attorney General Jeff Sessions demanded resignations from U.S. Attorneys nominated by Obama. This reflects common practice when a new president strolls into D.C., but Bharara reportedly refused to leave his position. He got canned shortly after, and this caught media attention since he'd claimed in November that Trump asked him to keep working for the new administration.
Well, after his lost his job, Bharara made a sly tweet, which referenced an anti-corruption taskforce. Commenters wondered if this meant he'd been investigating Trump. Incidentally, sources told ProPublica that he'd been looking into Tom Price, the president's choice for Secretary of Health and Human Services.
As things stand, Bharara lacks the institutional leverage to make Trump do everything about the White House logs. However, ethics groups have sued to make sure the records are released.
[Screengrab via The Cooper Union]
Have a tip we should know? [email protected]