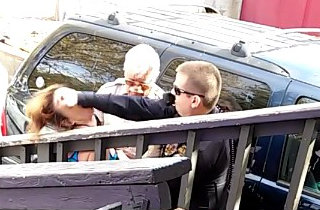 A little white ago, we wrote about Arizona cop Jeff Bonar who was caught on tape punching a woman in the face. Now he's resigned.
His employers at the Flagstaff Police Department said he violated six policies in the incident. This included unreasonable and excessive force, and failing to turn on his body camera. The Northern Arizona University Police Department had been put in charge of an independent criminal investigation, and Officer Eric Greenwald told CBS 5 Arizona in a Wednesday report that the Mojave County prosecutors are currently looking into this for possible charges. County Attorney Matthew J. Smith confirmed this in a talk with a outlet, and said it would talk at least "a week or two" before they'd make a decision.
Please note that the video below has content viewers may find disturbing.
Bonar made the national news after a witness posted video of him confronting a woman over an arrest warrant—which apparently didn't even exist anymore.
"She had a warrant a few weeks ago," witness Jimmy Sedillo said shortly after the incident. "He still assumed she had a warrant."
[image via Facebook]
Have a tip we should know? [email protected]