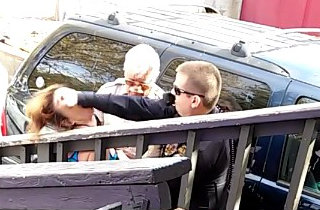 Why did this Arizona cop punch a woman in the face? Video posted to social media shows one officer with the Flagstaff Police Department socking a suspect during a heated arrest.
The FPD identified the cop as Officer Jeff Bonar. Well, he's now been placed on administrative leave. According to the department's media release, they learned about the footage late Wednesday, and internal affairs are now looking into it. They said the woman, "who appears somewhat uncooperative" in the clip, got struck in the face by Bonar, but didn't explain much more than that.
"Our agency is very concerned by what is depicted in the video," they said. "We are immediately initiating an internal investigation into this incident."
You can see the original video, posted to Facebook, here. Obviously, please be weary of disturbing content. WATCH VIDEO:
Details from authorities remain murky, but they said they'll keep putting out more information as the investigation progresses. A report from The Arizona Republic might help fill in the backstory on this. They spoke to Flagstaff man Jimmy Sedillo. He claimed it was his girlfriend in the video, which was recorded by his brother-in-law. The couple were getting evicted and several officers, including Bonar, were observing, Sedillo said.
But during that process, Bonar allegedly confronted the woman over a warrant for her arrest—which apparently didn't exist anymore.
"You can't hit a girl like that!" said one angry witness on tape.
"She had a warrant a few weeks ago," Sedillo said. "He still assumed she had a warrant." In the video, the woman and supportive witnesses said that no, she didn't have a warrant anymore.
[Screengrab via Facebook]
Have a tip we should know? [email protected]