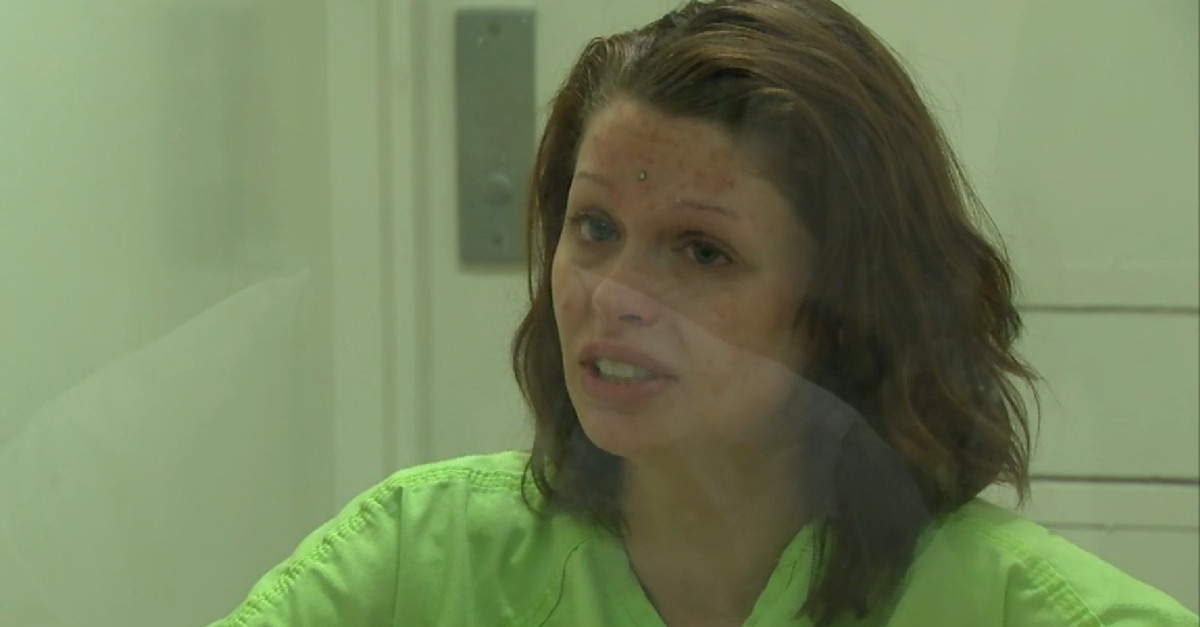 Police in Spokane, Washington say a murder suspect turned herself in after apparent encouragement from her new boyfriend. The defendant's alleged crime: killing her ex's mother.
Ashley Horning, 25, faces a charge of murder in the death of Christina Powell, 48.
"She was a good woman, I'll tell you that for sure," new boyfriend Zachariah Gardner told KXLY. "Obviously, that's hard for some people to see right now."
Court documents said that he got a Facebook message on Thursday in which Horning said she was going to commit suicide. He found her on a bench, and learned about the allegation. Gardner said he encouraged her to turn herself in, and she said okay.
A man who turned his girlfriend into police after learning she was wanted for murder explains how things unfolded. Police say Ashley Horning shot and killed her ex-boyfriend's mother in front of her own child. Exclusive interview at 11 on #KXLY pic.twitter.com/HvX14uVcoY

— Kyle Simchuk (@KyleKXLY) January 26, 2019
He called 911 from a Safeway supermarket. Gardner said he had been dating her for a few weeks, but added this allegation "wasn't something that she would normally be capable of."
Christina Powell was grandmother of Horning's daughter with ex-boyfriend Gregory Powell. Police said the suspect entered his home on Thursday morning, and got into a confrontation with the victim, according to the Spokesman-Review. Gregory Powell, cops said, went to his room for a weapon, but heard a gunshot. He found his mother falling down, and she asked him to call cops. Police said she died at the scene.
Powell claimed that Horning ran from the scene wearing all black and armed with a silver revolver, according to cops. Their 3-year-old daughter was at the residence at the time of the murder.
Gregory Powell told KHQ that he believes he was the real target, and that his mother took a bullet for him.
Friction goes back since at least 2018. In December, Gregory Powell filed for custody of the girl, and claimed that Horning was abusive. He said she was mentally unstable, had attacked him and the father of her other children, and tried to "cast dark magic" on him. When cops talked to her on Thursday, Horning allegedly accused her ex of molesting their daughter. It's worth mentioning the Spokesman–Review pointed out that court records don't substantiate this allegation.
The murder weapon remains unaccounted for. The suspect allegedly said she "blacked out" Thursday morning, and suggested that if she actually killed Christina Powell, she would have tossed the firearm into the river.  According to cops, Powell said the gun was his, but Gardner told police that his revolver was missing. The new boyfriend didn't comment on this in the KXLY interview.
In the eyes of the law, Horning remains an innocent woman. She appeared in court for a preliminary appearance on Friday.
Ashley Horning, 25, is accused of shooting and killing the grandmother of her daughter. She refused to give her name for the record. She said she goes by "Gyspy". @KREM2 pic.twitter.com/5UH8bRq0HG

— Alexa Block (@KREMAlexa) January 25, 2019
Her attorney said she was suicidal and had asked to be placed in a psychiatric ward, according to KREM. He said she insisted on her innocence, but the suspect's denials were more muted, to say the least, in an interview with KHQ.
She said she thought about running after seeing the allegation on Facebook.
"And I regret it," she said. "I don't remember it, and I'm so sorry to everyone that I've disappointed, especially my daughters."
[Screengrab via KHQ]
Have a tip we should know? [email protected]