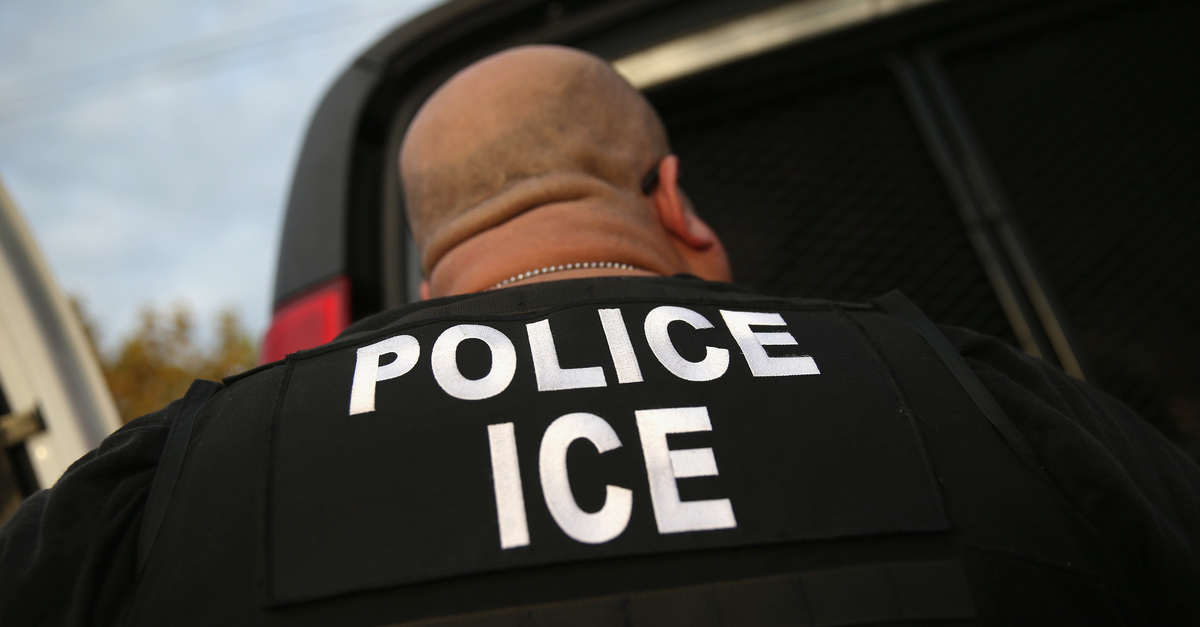 A computer engineer and contract worker with U.S. Immigration and Customs Enforcement (ICE) stands accused of attempting to entice and transport a minor across interstate lines in order to engage in sexual activity.
According to a criminal complaint and indictment obtained by Law&Crime, 35-year-old Majid Dedihban, who worked as a system administrator for the immigration agency, allegedly tried to lure a Florida girl to California in order to engage in "daddy/daughter" role play fetish activities.
The criminal complaint alleges that Dedihban began messaging an undercover sheriff's detective with the Palm Beach Sheriff's Office (PBSO) who was posing as a 15-year-old girl on the "MEETME" dating app in early December last year. Dedihban allegedly used the handle "MD" when speaking with the undercover officer through the app.
"The messages said, 'Hi! l'm looking for a girl to roleplay daddy/daughter . .. if u like?' with a smiley face emoji. "MD's" profile indicated that he was a 35-year o1d male from San Diego, California," the complaint notes. "After accepting the message request, the undercover detective identified herself as a 15-year old female."
The complaint continues:
Didehban [then] requested to move the conversation to text messaging and asked the [undercover officer] if she wanted to be his "real daughter." When the [undercover officer] inquired as to how this would occur, Didehban. stated, "see u in person [sic]", "We can pretent. But like in person." The [undercover officer] provided her undercover phone number. Didehban then texted "Hi!" an "How r u baby ?" Within 3 minutes, Didehban provided his name Majid; the [undercover officer] identified with an undercover name.
Over the course of the next two weeks, the ICE contractor allegedly exchanged "thousands" of texts and phone calls with the undercover officer in which he allegedly "expressed his desire to have a sexual relationship" with her, according to the recently unsealed complaint.
Those records go on to allege that Didehban asked the officer to treat him like her father. Then he allegedly asked the girl to become his girlfriend and wife–in that order. Didehban also allegedly requested photographs of the girl.
One series of messages contained in the federal complaint notes that the undercover officer made a point to reference her apparent age.
"[A]re u role playin like is this fantasy for you or you really want me," the officer asked. To which the ICE contractor allegedly replied, "I REALLY WANT YOU…And we can have a baby together," The officer then responded, "l don't want you talking to any other guy tho. Ok? You're just for me. ls that ok?"
The undercover officer also asked if Didehban would tell anyone about her. Didehban then allegedly responded, "Well ya, Once you're 18′.. How old r u really baby? l don't mind." The undercover officer said, "ok. I'm fifteen … is that really ok with u? l understand if it's not." The ICE contractor then allegedly said, "It really is baby…I love it" After the undercover officer responded, "Why u love it?" Didehban allegedly texted, "cause l love young baby…Hence the daddy daughter role-play."
Soon a plan was arranged so that the girl would move to California–Didehban allegedly said he couldn't move to Florida due to his job.
"You know we will have to pretend we are daddy daughter right?? Like when I come get you. In the airport. We have to be daddy daughter," one text allegedly reads.
The conversations contained in the complaint between the ICE contractor and the undercover officer become increasingly sexual and explicit. On various occasions, the undercover officer appears to upset Didehban and the two cease contact for awhile before picking it up again later. The ICE contractor also allegedly demands photographs, phone sex and that the girl meet him in person.
On December, Didehban allegedly purchased the girl a ticket in her name. He was arrested soon thereafter.
[image via John Moore/Getty Images]
Have a tip we should know? [email protected]