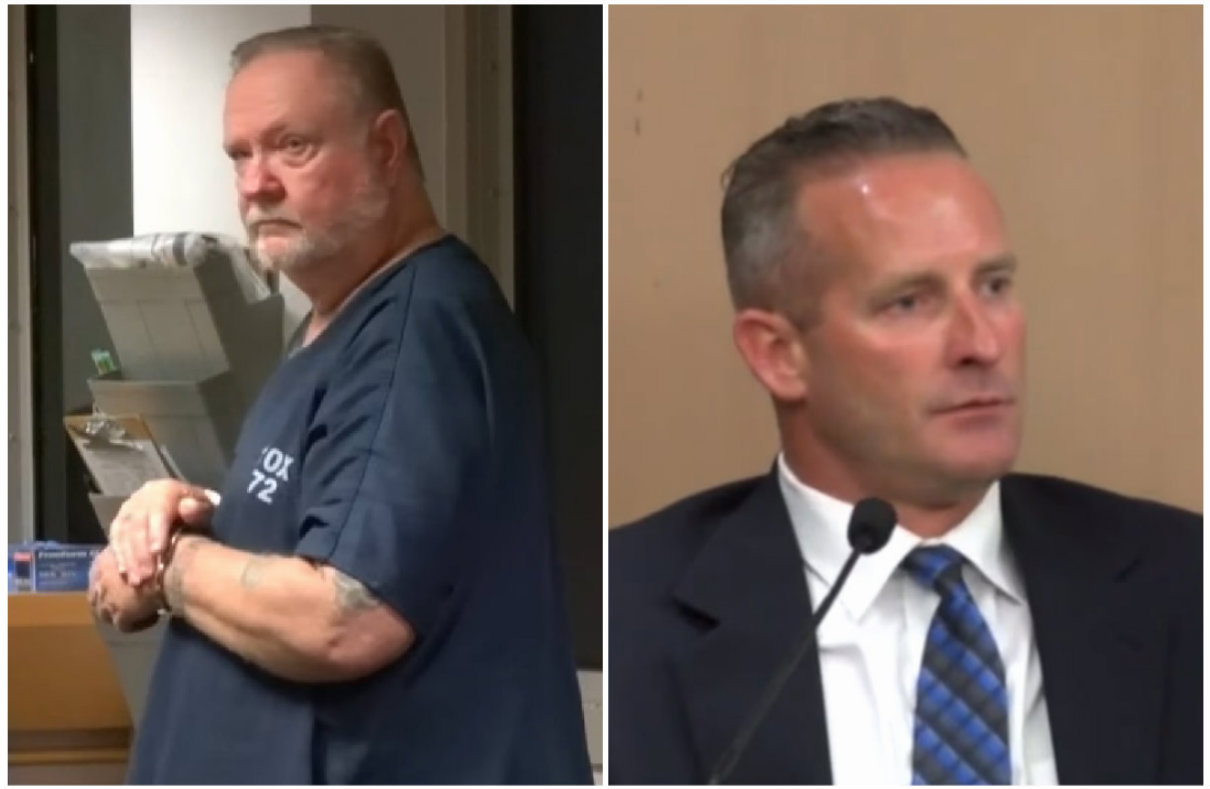 Two Palm Beach County Sheriff's Office (PBSCO) deputies — a father and son — have both been charged in separate felony cases. Jason Nebergall was already convicted earlier this month for attempting to sexually assault a woman; his father, Carlton Nebergall Jr., also faces trial for the first-degree murder of his son-in-law.
The dad retired from the PBCSO in 2012 after decades of service, but prosecutors claim he killed his daughter's estranged husband, Jacob Lodge, last February 19. The victim showed up to the daughter's home to exchange clothes for their children, said the arrest report obtained by Law&Crime. This was a normal, routine thing for them, even though the two were separated. The woman told cops he was parked in front of the home, and they talked calmly for several minutes. Lodge wasn't aggressive or otherwise belligerent, she said, but then she saw her father walking down the driveway with a firearm, telling Lodge to leave.
"Really?" Lodge allegedly said. "You're going to threaten me with a gun?" But even then, the victim was not aggressive, said the report. Lodge started to drive away, but it was then that Carlton Nebergall allegedly fired a shot in the air. The wife ran back inside the home to check on her kids. During this time, she heard the vehicle come to a stop and the car door open. When she returned outside, she discovered her father, holding a revolver in his hand, and Lodge lying in the roadway, bleeding from the forehead. He had been shot.
Then there's the matter of Jason Nebergall's case. Prosecutors said a woman contacted authorities after getting into a physical confrontation with her landlord. Nebergall was one of the deputies who showed up to the scene early morning July 21, 2016. According to the arrest report, he made comments about her looking "pretty," as if she hadn't been beat up twice. She claimed he showed up by himself later, still in uniform. He told her to open the door, and when she stepped outside, he grabbed her by the hair, and kissed her on the mouth with his tongue, the arrest report said.
He was accused of (among other things) kissing the woman some more, making comments about her "big ass titties," sucking on her left breast, asking her if she had ever seen a "white cock" before, and rubbing her vagina with his fingers. Nebergall allegedly attempted to penetrate the woman sexually, but stopped. "I can't do this without a condom," he reportedly said.
The woman later told investigators she didn't fight back because she was afraid of what the armed Nebergall would do to her. He kept touching his gun in the waistband, she testified.
The conviction on July 13 marked the definitive end to a troubled law enforcement career: Nebergall was subject to at least 25 internal reviews from different allegations. In 2008, a captain and others recommended he be fired after he allegedly drew a gun on another deputy. Instead, he got two days of suspension, and had to take an anger management class.
Prosecutors won't seek the death penalty in his father's case. Carlton Nebergall's legal team is arguing self-defense. In a motion to set conditions of release, they argued their client had a reasonable fear of the defendant. At the time, Lodge was on probation for having stolen jewelry from Nebergall and his family, they wrote. He had even stolen from his wife, and had previous convictions for battery, aggravated battery, and false verification of ownership, the motion read. Lodge was supposed to stay away from Nebergall, they argued.
Jason Nebergall's sentencing is set for Aug. 1. Jurors convicted him for attempted sexual battery while in possession of a weapon, and a misdemeanor battery count for touching her breasts, but they cleared him of a battery charge for touching the woman's vagina. Investigators said DNA was found on her breast. During the trial, Nebergall's defense claimed the woman initiated the encounter. She hated law enforcement, and made up the sex assault story, they argued. Jurors didn't buy this argument.
[Screengrabs: Carlton Nebergall Jr. on left via Palm Beach Post, Jason Nebergall via WPTV]
Have a tip we should know? [email protected]