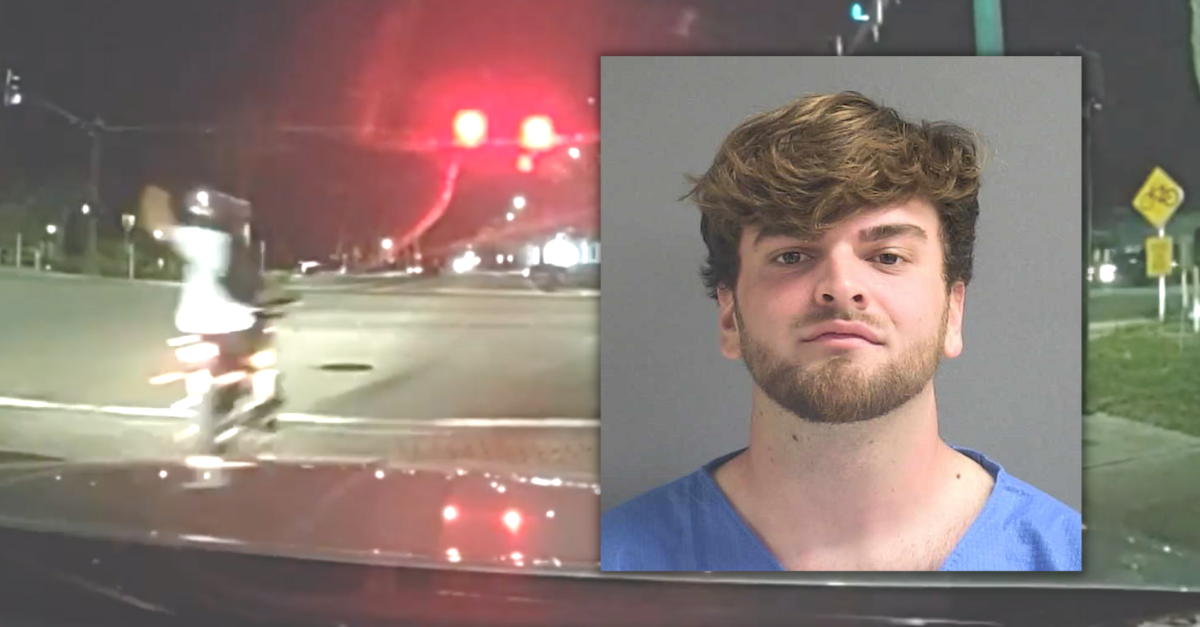 "Here's a good way to get yourself killed," was the message the Volusia Sheriff's Office in Florida wrote on Facebook when they released body camera footage of a motorcycle chase from Friday, March 3.
While patrolling Friday night, a deputy spotted a group of motorcyclists popping wheelies on a busy highway. When the group saw the deputy trying to pull them over, the group sped off and continued to drive recklessly, passing vehicles across solid double lines, according to the sheriff's office.
The group then whizzed through a red light, ignoring multiple sheriff's office cars working to pull them over. While crossing that red-light busy street, one of the bikers, identified by authorities as Joshua Richardson, looked back at a deputy and flipped him off — riding right into the path of an oncoming truck.
The man and the motorcycle were thrown onto the pavement — he got up and ran from the scene.
After a brief chase through the streets, deputies were able to catch up with him and throw handcuffs on him. The man identified as Richardson can be heard in the body camera footage screaming about how badly his leg hurt, saying "I'm hurt!" and "It hurts, f**k!"
When deputies told him that his leg wouldn't be hurting if he had just stopped for deputies, he responded, "What was I supposed to do?"
Richardson was charged with fleeing or attempting to elude law enforcement, resisting without violence and leaving the scene of a crash. He also was cited for failure to stop at a red light and passing in a no-passing zone.
Have a tip we should know? [email protected]