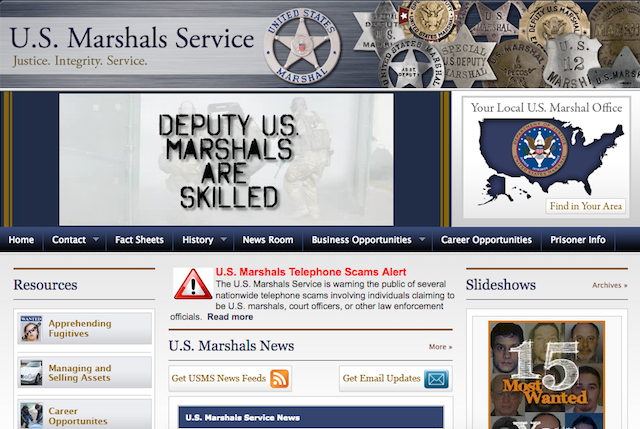 A federal investigation has uncovered evidence that a federal marshal with the United States Marshals Service had sex with at least nine different women in his government office while on the job.
In a somewhat redacted document obtained by reporter USA Today reporter Brad Heath and posted to Twitter earlier today, the Office of the Inspector General ("OIG") cites to many lurid details of the somewhat sexually-inclined federal law enforcement officer.
According to that document, the OIG investigation relied on evidence gathered from "multiple sources" in order to "substantiate six allegations" against the as-yet-unnamed marshal in question. The first two allegations are:
(1) [The marshal] engaged in sexual intercourse with approximately nine different women within [United States Marshals Service ("USMS")] office space in the Courthouse; [and] (2) contacted some of the women identified in this investigation and encouraged them not to disclose to the OIG their sexual activity at the USMS office.
The marshal also allegedly, "allowed multiple unauthorized non-government employees whom he was dating to park their personal vehicles within and in front of the Courthouse by lending them his official USMS Identification placard."
It is presently unclear which courthouse is being referenced in the redacted document–which was apparently obtained via a Freedom of Information Act ("FOIA") request. If the document was obtained via the federal FOIA process, however, it is likely the courthouse in question was federal–though not necessarily located in Washington, D.C.
The document also claims the marshal being investigated, "initially lied to the OIG about his sexual activity on government property [and] released official law enforcement information to a news reporter regarding statements made…without a justifiable purpose." (The ellipsis in the immediately preceding sentence signifies a redaction.)
And, on a decidedly lighter note, the federal marshal is also accused of "regularly" bringing his dog to work and driving that dog around in the marshal's government-owned vehicle.
[image via screengrab/USMS]
Follow Colin Kalmbacher on Twitter: @colinkalmbacher
Have a tip we should know? [email protected]