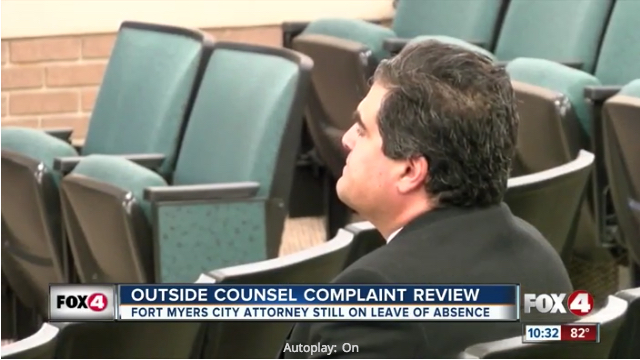 A city attorney in Florida fears an assassination attempt on his life may occur–at the hands of city police officers.
Fort Myers City Attorney Grant Alley relayed his fears to investigators who were looking into allegations that Alley had been unprofessional and "aggressive" when dealing with staff as of late.
That report, commissioned by the Fort Myers City Council, was released on Tuesday. It reads, in relevant part:
Mr. Alley stated that there is a 'conspiracy' and 'organized effort' that 'originated with certain members of the police department that protect malfeasance and silence the forces needed to correct it.
Alley claimed he feared for the safety of his family as well and said he believed he might be shot by members of the Fort Myers Police Department ("FMPD") due to his efforts in bringing allegations of police corruption to the public eye.
The report was produced by outside law firm Coleman, Hazzard, Taylor & Diaz. The investigators involved later held two public meetings with the Fort Myers City Council. At those meetings, the authors stressed that Alley's concerns were worthy of further investigation.
The investigators noted that their report was not conclusive and that further unresolved issues–unrelated to Alley's safety concerns–explored in the report demanded the council's attention as well.
In October, it was reported that certain FMPD officers were accused tipping off drug dealers about search warrants. Alley's investigation into the police department began after that report was issued.
The City Council began its own investigation into Alley's allegedly untoward behavior after a series of complaints earlier this year.
As for the report's findings to that end, it determined that Alley is a "skilled and knowledgeable lawyer and dedicated public servant" but that he also "routinely engages in inappropriate conduct" towards his staff, that he "has an overly dictatorial management style" and that he "inappropriately reprimands" his staff, while being generally unavailable when they have concerns.
The report apparently cost the city some $130,000.
[image via screengrab]
Follow Colin Kalmbacher on Twitter: @colinkalmbacher
Have a tip we should know? [email protected]