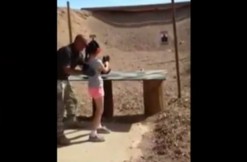 On August 25, 2015, a 9-year-old shot and killed Charles Vacca with an Uzi. Vacca, a shooting instructor, had been teaching her how to operate the submachine gun when she fired, lost control of the powerful weapon, and accidentally hit him. Now his family is suing the gun range over his death.
"The Uzi was an inappropriate and unsafe weapon to entrust to a 9-year-old girl like the Child Shooter, thereby creating an unreasonably dangerous and unsafe environment for individuals in the area, including Charles J. Vacca, Jr.," states the lawsuit, obtained by The Washington Post.
The Last Stop shooting range (aka "Bullets and Burgers") is the defendant in this suit, filed Friday. The girl and her family don't have to worry about legal ramifications, though. Plaintiff attorney Marc Lamber told the post that his clients feel the girl and her parents "have been scarred enough, they've endured enough, by having to live through this."
The Mohave County Sheriff's Department wrote a report about the incident, and according to that, the girl said right after the shooting that the Uzi "was too much for her."
We've reached out to the plaintiffs and will update if we hear back.
[screengrab via Mohave County Sheriff's Office. It depicts the moments before Vacca's death.]
–
Follow Alberto Luperon on Twitter (@Alberto Luperon)
Have a tip we should know? [email protected]