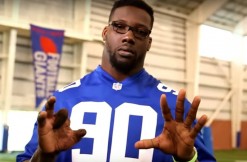 How far can the media go in reporting celebrities' personal business? Ask NFL defensive end Jason Pierre-Paul, and you'll be told it stops at the hospital. He lost a finger in a Fourth of July 2015 fireworks accident. ESPN's Adam Schefter obtained the medical records, then tweeted pictures. Cue an invasion of privacy lawsuit filed in February against Schefter and ESPN.
Now it seems like this battle will reach trial. On Friday, a Florida judge shot down ESPN's motion to dismiss Pierre-Paul's complaint. The outlet argued that the First Amendment allows them to show visual evidence in such a story, and their lawyers—incidentally the same ones who defended Gawker in Hulk Hogan's lawsuit—said Pierre-Paul's complaint made no sense.
The legal action "proceeds on the theory that while it was legitimate for Mr. Schefter to report the details of Plaintiff's medical treatment in the form of words contained in a news report, it was unlawful for him to definitively corroborate his reporting by also providing two photos of a small portion of a page of hospital records that contained essentially the same words," they stated in their motion to dismiss, obtained by The Hollywood Reporter. "Put another way, Plaintiff's theory is that it is fine to quote from a document, but it is unlawful to attach a photo of similar words as they appear in the document. That proposition is meritless, as a matter of both law and common sense."
Pierre-Pauls' lawyer are fighting this from a different angle though. They say privacy concerns are at stake here, and that ESPN is abusing the First Amendment.
"If the hospitalization of a public figure constituted authorization for the publication of that person's medical records, then the right to privacy would be non-existent," they wrote. "Indeed, public figures would hesitate to seek medical treatment, or be less likely to share certain information with health care professionals, out of fear that hospital personnel would sell their medical records to those who want to profit from the publication thereof (as ESPN did here), thereby negatively impacting their health. That is not the purpose of the First Amendment."
ESPN tried to get the lawsuit dismissed by citing a recently enacted anti-SLAPP Florida law. SLAPP suits are pretty much disingenuous legal complaints designed to shut down critics and the like.
By the way: Pierre-Paul is still signed to the New York Giants, participating in 8 season games since the accident.
[h/t The Hollywood Reporter]
[screengrab of Pierre-Paul via U.S. Consumer Product Safety Commission]
–
Follow Alberto Luperon on Twitter (@Alberto Luperon)
Have a tip we should know? [email protected]