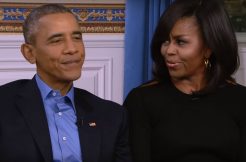 What is it about politicians and random social media posts? Council members in West York, Pennsylvania are now backing away from Mayor Charles Wasko because of his online presence.
"I almost don't know what to say," council president Shawn Mauck, a Democrat, told The York Dispatch in a Thursday report. "I kind of want to throw up."
Wasko is a prolific Facebook poster, and man, he loves to put up liberal-baiting memes. But it goes further than that.
One February post featured a picture of a smiling Chimpanzee.
He wrote, "Most think it is Obama's picture……sorry its Moochelles baby photo."
So, yeah, he compared the President of the United States and the First Lady to apes. A February post also showed a movie screengrab of Clint Eastwood with a noose. The text read, "Barry, this rope is for you. You wanna bring that empty chair over here?"
Other posts? Well, there's a racially charged meme pointed at NFL quarterback Colin Kaepernick. An image depicts veteran caskets wrapped in American flag, and features the text, "Would the suppressed millionaire, NFL quarterback, who would not stand for the National Anthem please point out which of these guys are black so we can remove the offensive flag. [sic]"
The York Dispatch was able to speak with four out of the seven council members on Wednesday. The officials want him gone: Mauck, Republican Shelley Metzler, Republican Mary Wagner, and Democrat Brian Wilson.
"I would punch him in the mouth if I could get away with it," said Metzler, who is white.
Wilson said he will ask for the mayor's resignation at the next council meeting on Monday.
According to The Dispatch on Thursday, Wasko said that he won't be "politically correct, I will say what is on my mind and what I believe in."
We've reached out to Wasko for a comprehensive statement and will update when we hear back.
[screengrab via CBS]
–
Follow Alberto Luperon on Twitter (@Alberto Luperon)
Have a tip we should know? [email protected]