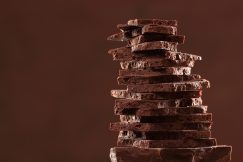 Thirty-two suspected members of a Russian organized crime group, Shulaya Enterprise, were indicted today for charges including murder for hire, racketeering, and trafficking over 10,000 pounds of stolen chocolate.
Law enforcement officials confirmed 25 members of the group, including its two leaders Razhdan Shulaya and Zurab Dzhanashvili, were arrested by the FBI's Joint Eurasian Organized Task Force in New York City.  The other seven members are reportedly still at large.  The majority of the group consisted of members born in the former Soviet Union and have connections to Georgia, Ukraine, and Russia.
The group allegedly trafficked stolen goods, including chocolate, cigarettes, and various narcotics. They are also facing allegations related to a murder-for-hire plot, and a scheme where defendants allegedly robbed victims by seducing them and knocking them out with chloroform.
According to court papers, the New York City-based group conducted operations in New York, New Jersey, Nevada, Florida, and Pennsylvania.
[Image via Shutterstock]
Have a tip we should know? [email protected]