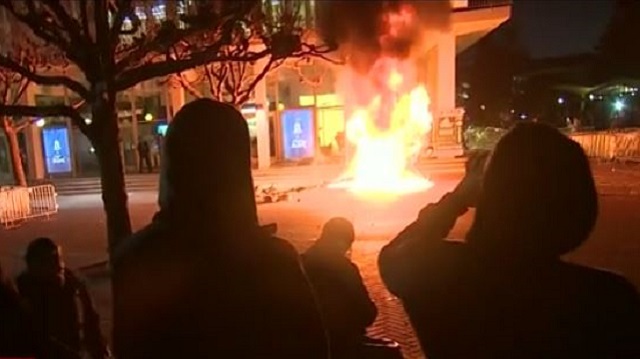 The UC Berkeley campus was the location of a much-publicized violent protest earlier this year, when students acted out against a planned event featuring conservative speaker Milo Yiannopolous. The riot reportedly caused $100,000 worth of damage to the campus, and now a student caught in the fray is suing the school for $23 million for harm she allegedly suffered.
Kiara Robles claims that she was attacked with pepper spray and bear mace, as well as beaten with flag poles and flashlights during the riot, and alleges that school officials "intentionally withheld police protection" while knowing that the event could turn violent. She accuses the school and its officials of having a left-wing agenda and wanting to stifle the expression of conservative ideas.
The complaint, obtained by LawNewz.com, says that campus officers stood by and failed to take appropriate action while students engaged in violent activity. The lawsuit says that by not providing sufficient police protection, the school displayed "a callous and blatant disregard for the safety of the crowd that came to hear Milo Yiannopolous speak."
Robles' lawsuit, filed by attorney Larry Klayman, also accuses the school of withholding police protection for the event "because Milo Yiannopolous and a large number of his supporters, including Plaintiff Robles, are gay."
Robles is suing individual protesters for assault and battery, and is making claims against the school and its officials for negligence, intentional and negligent infliction of emotional distress, premises liability, and violation of equal protection, among other allegations. She also names House Minority Leader Nancy Pelosi, California Democratic leader John Burton, as well as investor and left-wing activist George Soros in the lawsuit.
A spokesperson for UC Berkeley said in a statement to LawNewz:
In advance of the Milo Yiannopolous event, administrators and UCPD spent countless hours and substantial University resources planning security measures to enable the event to occur. Faced with an unprecedented level of organized violence, UCPD responded in a manner designed to minimize injuries to innocent members of the surrounding crowd, defend the building from incursion by massed attackers, and protect and safely remove the speaker. We are confident that UCPD's actions will be vindicated against the plaintiff's uninformed allegations.
Robles v UCBerkeley Complaint by LawNewz on Scribd
[Image via CNN screengrab]
Have a tip we should know? [email protected]