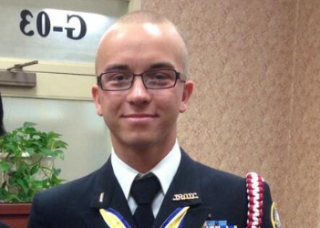 Some people wish they could go back to high school. This guy apparently did. A model student at a Harrisburg, Pa. high school is actually a 23-year-old Ukrainian man staying in the country illegally, police say. Artur Samarin, known by classmates as Asher Potts, enrolled as a freshman in the fall of 2012, after his temporary visa expired.
Samarin obtained a social security card and Pennsylvania driver's license as Potts. As a high school student, he had a 4.16 GPA, volunteered at a food bank, and participated in the school's ROTC  and Naval Sea Cadet programs. A few months before graduation, police discovered Samarin's ruse and arrested him at his home on Tuesday. Samarin is charged with theft, tampering with public records, and identity theft, although CBS News reports that police believe he made up the alter ego, and no one's actual identity was compromised. Police investigated Samarin after receiving a tip two months ago.
Marcel McCaskill, who met Samarin at a math and science summer program in 2013, told CBS that the student he knew as Potts was "the perfect role model, someone you would want your son to look up to," although he and some of the other kids joked that Samarin was a Russian spy because of his accent.
Police and school officials have yet to comment on the details of the arrest.
[h/t ABC News, Screengrab via Twitter]
Have a tip we should know? [email protected]