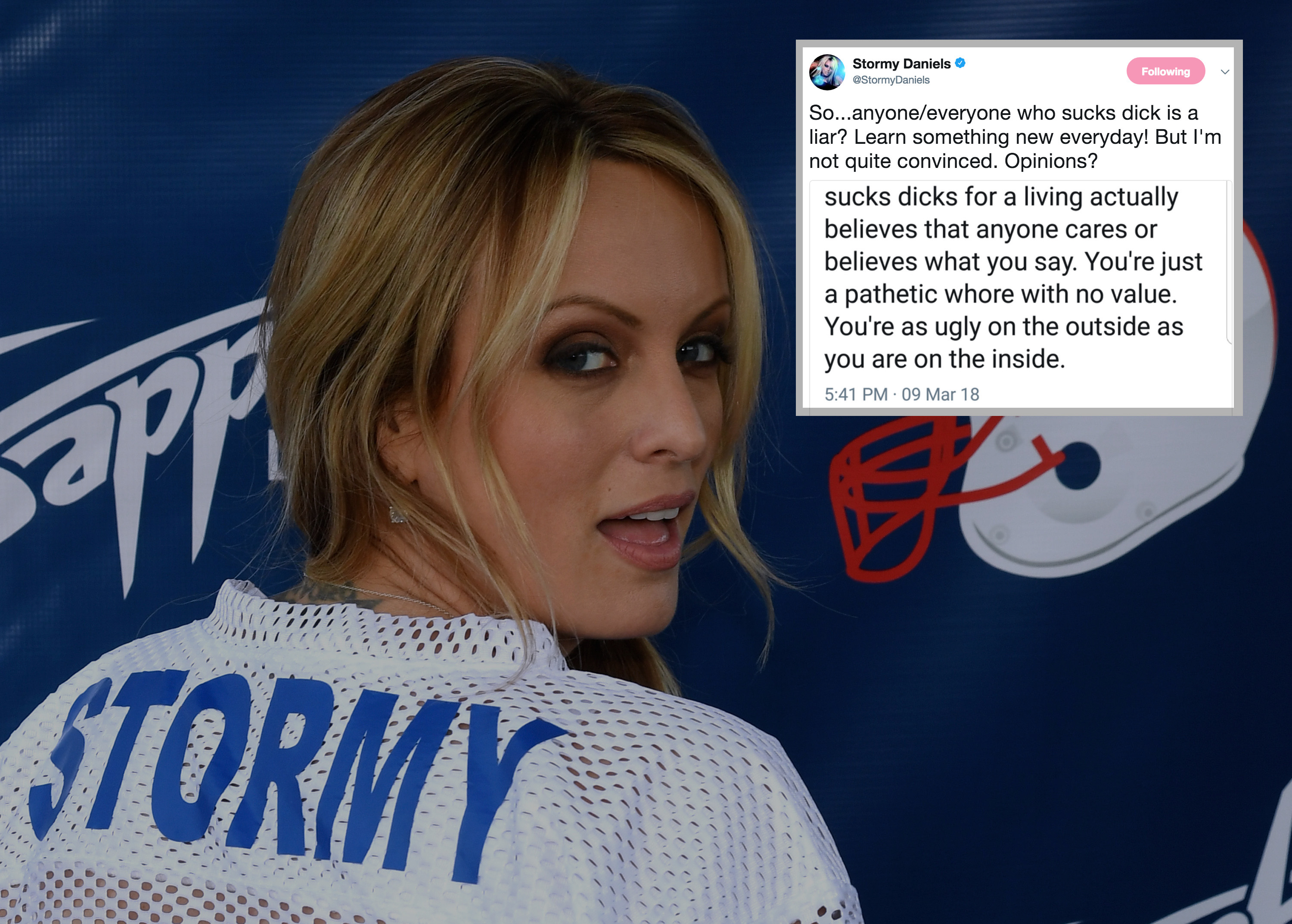 Stormy Daniels is taking on her critics–that is, fans of President Donald Trump–via Twitter dot com.
The contours of this fight are essentially as follows: (1) Someone sends a mean-spirited comment directly to Daniels' account; (2) Daniels responds by quote-tweeting the culprit with a snarky caption; (3) the vitriol abates for a few moments as the called-out member of the #MAGA set slumps away and deletes their tweet.
One obvious Trump fan, who goes by the handle, Deplorable Joanne, posted the following anti-sex worker statements directed at Daniels, writing, "I find it hilarious that someone who sucks dicks for a living actually believes that anyone cares of believes what you say. You're just a pathetic whore with no value. You're as ugly on the outside as you are on the inside."
To which Daniels responded:
So…anyone/everyone who sucks dick is a liar? Learn something new everyday! But I'm not quite convinced. Opinions?
Another apparent Trump fan made a similarly abusive statement towards Daniels:
@StormyDaniels I don't get how having sex with a rich man..12 years ago nonetheless…getting over 100.000 makes u think u should get more money? https://t.co/UQS2nfu1hW. gross

— Jill Smith (@JillSmi56976637) March 10, 2018
Daniels quote-tweeted this criticism as well, noting, "Show me where I've asked for money? I'd rather be "gross" (showers usually fix that) than ignorant like you. Xoxox."
Daniels is not suing Trump for money.
Rather, Daniels' lawsuit against Trump and Essential Consultants, LLC–the shell company allegedly formed to disguise and facilitate the $130,000 hush money payment from Michael Cohen to Daniels–is simply requesting a judicial declaration that the original non-disclosure agreement between the actress and the 45th president is inoperative as a matter of law because Trump allegedly never signed that agreement in the first place.
Multiple other conservatives and apparent Trump supporters who attacked Daniels directly on Twitter made themselves scarce after being quote-tweeted and publicly disabused of their criticism.
In one by-now non-existent tweet–originally authored by Twitter user @tracey04847–Daniels adds the caption, "Let me help you, honey." While a second Daniels tweet–sent just a few seconds later–offers a screen-captured dictionary definition of the word "irrelevant."
The further back one travels on Daniels' Twitter timeline, the more once-willing critics shrink away from the fight after being engaged with and mocked for their frequently misogynistic, abusive and anti-sex worker commentary. Here's a picture of just a few more: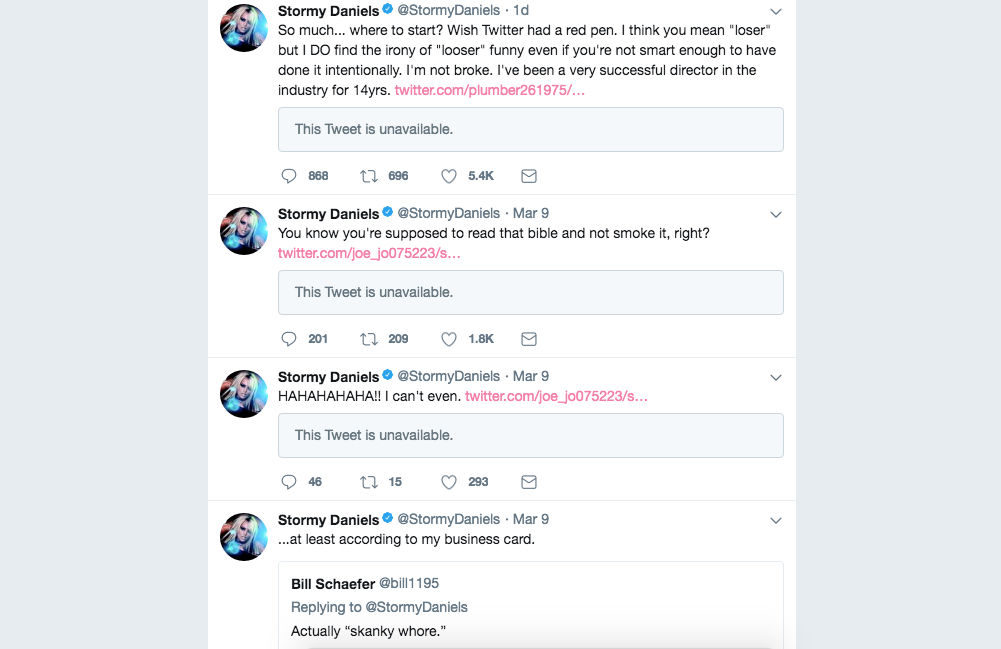 Interspersed between the formerly brave keyboard warriors briefly taking Daniels to task before slinking away under the spotlight is a somewhat cryptic tweet.
This tweet merely reads, "#wet" and contains a link to the adult actress' fan page.
[image via screengrab/Ethan Miller/Getty Images]
Follow Colin Kalmbacher on Twitter: @colinkalmbacher
Have a tip we should know? [email protected]