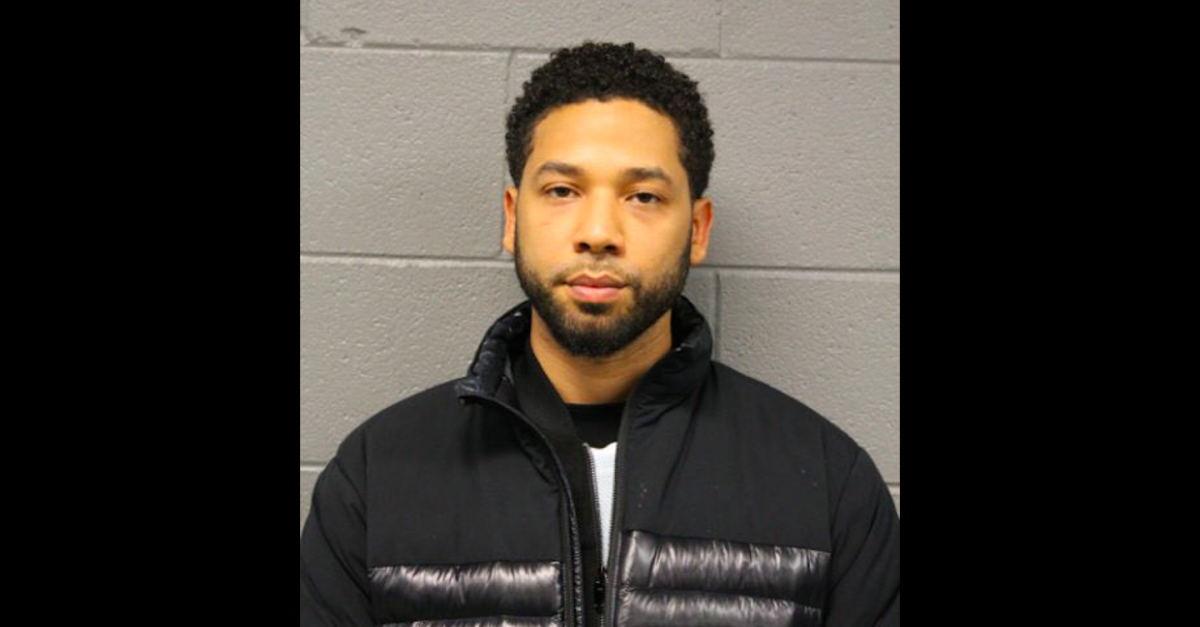 Jussie Smollett went from being known as an Empire actor to a hate crime victim to a suspected hoaxster seemingly overnight. Smollett now faces a felony disorderly conduct charge for allegedly filing a false report that he was the victim of a racist and homophobic assault on the streets of Chicago. The witness testimony from the Osundairo brothers was enough for a grand jury to move forward with an indictment, leaving Smollett and his lawyers in quite a predicament.
Where do the attorneys go from here? It may be obvious, but if you consider that Abel and Ola Osundairo's testimony is what has Smollett facing charges then poking holes in their story is what is necessary if Smollett wants to skate on those charges.
Smollett's attorneys have already said so, too. The Osundairo brothers, one of whom appeared on the show Empire as an extra, have alleged that Smollett paid them — with a $3,500 check — to stage the attack and that Smollett even sent a fake hate letter to himself on the Empire set before the incident that made national headlines. Smollett's team already previewed their defense strategy when they responded to the check by saying the payment had nothing to do with the attack, but for a "training" and "nutrition" plan.
In other words, the defense is saying that they're not telling the truth about that check, impeaching the credibility of the witnesses. They're going to have to prove that, contrary to what the Osundairo brothers have said, 1) they acted alone/Smollett wasn't involved 2) the check had nothing to do with what happened and 3) their story has changed, been inconsistent, or was coerced. Put another way, they are going to have to disprove the Chicago Police understanding of motive (that Smollett was upset with his salary on the show and staged a hoax with the help of the Osundairos to garner sympathy that would result in a steep raise and possible rise to mega-stardom).
As Law&Crime noted before, Smollett recently added Colin Kaepernick's lawyer Mark Geragos to his legal team. On his podcast Reasonable Doubt, Geragos asked the kind of questions that you might expect to be asked in a courtroom on cross examination. Remember: Chicago Police initially identified the Osundairos as persons of interest in the attack. Days later, they were no longer considered persons of interest but victims, and were released from custody without being charged. They also provided information that was deemed credible enough for an indictment.
Geragos wants to know what happened after the witnesses were taken into custody but before they were released, and why.
"Did you charge them? Did you give them immunity? Did you do anything with them?" he said. "You said they changed their story in the 48th hour — why did they change their story? Was it lawyer-driven?"
Geragos claims that, actually, the real case is against the exonerated witnesses.
"I have not seen anything that supports this idea or the narrative that they put out there that he was in cahoots with anyone. They have a whale of a case against the two guys — the two brothers — but that's it," he said. If there was a deal involved, you can expect the defense attorneys will argue that this more than taints the witness explanation. Geragos further claimed that the narrative that Smollett was pissed off about his salary was "not true."
"They didn't talk to his lawyer, they didn't talk to anybody at the production company, they didn't talk to an agent," Geragos continued. "Nobody. I've done that. I know for a fact that's untrue. That's categorically untrue. That's not the motivation, yet that was what was articulated as the motivation."
If Smollett can get co-stars or supervisors to testify that he had never complained about his salary or asked for a raise, that would help the defense move the needle in the other direction and raise more questions about the Osundairos' role in all of this.
[Image via Chicago PD]
Have a tip we should know? [email protected]