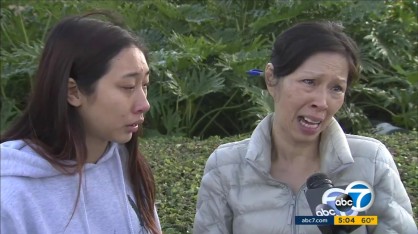 The family of Orange County Central Men's Jail escapee Jonathan Tieu made an emotional plea during an interview with a local TV affiliate, begging Tieu to turn himself in and surrender to authorities.
In an interview with KABC EyeWitness News, Tieu's mother, Lu Ann Nguyen, and sister, Tiffany Tieu, said they last saw him during a visit at the prison a week ago, and they were shocked when deputies knocked on their door asking if they knew anything after news broke about the escape.
The family believes Tieu, 20—the youngest of the three inmates who escaped on Friday night—was likely manipulated by the older inmates into going along with the plot. They fear for his safety. With tears streaming down her face, his sister begged him to not drag this out, and just turn himself in.
Tieu has been in custody since he was 15-years-old, charged with murder, attempted murder, and shooting at an inhabited dwelling, in relation to his alleged role in what authorities described as a gang-related shooting. His first trial ended in hung jury, and he was expected to be retried in March of this year.
WATCH:
[h/t KABC; image via screeengrab]
Have a tip we should know? [email protected]