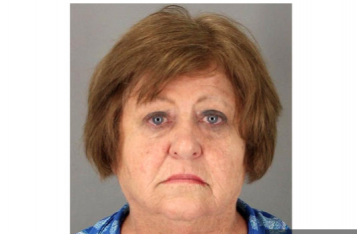 A high school teacher in east Texas was arrested and charged with misdemeanor assault on Friday after cellphone video allegedly shows her repeatedly slapping a student on the head.
WATCH:
@pside_prince this. pic.twitter.com/ItIkgq9Pw1

— khay (@khay2you) April 8, 2016
According to the Jefferson County Sheriff's Office, the incident took place at Ozen High School near Beaumont, Texas.  The teacher, Mary Hastings, was arrested on Friday and charged with misdemeanor assault.  She immediately posted the $2500 bail and was released, pending her next court appearance.
A brief video of the alleged incident was posted on Twitter on Friday and appears to show the teacher swipe some items off the student's desk before repeatedly slapping him on the head. She then appears to mock his response to the incident.  It is not clear what lead up to this incident but it seems the teacher is frustrated about something the student did which she thinks is "stopping [the other students] from graduating."  She also can also be heard apparently refer to the student as an "idiot ass."  Regardless of what the student may have done, based on the video, it seems to safe to say the teacher appears to have lost her cool.
According to a statement released by the district, Hastings was immediately removed from the school after the incident and placed on administrative leave.  The district also said they will not condone or tolerate abusive behavior.
[h/t WFAA; image via Jefferson County Sheriff's Office]
Have a tip we should know? [email protected]