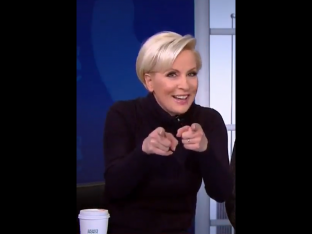 Over the past several months there has been much discussion about whether GOP Presidential candidate Donald Trump could reach 1,237 pledged delegates and avoid a contested convention.  On Thursday morning The Associated Press reported Trump finally surpassed the magic number and is currently sitting on 1,238 delegates.
If you look back to last summer, almost none of the major political talking heads on television or in print thought it was possible that Trump would be the nominee — and some folks are still in denial (Bill Kristol).  One of the most memorable exchanges over the past year about a possibility of a Trump candidacy occurred on Morning Joe. Program host Mika Brzezinski was one of the first major media figures that bucked conventional wisdom predicted Trump may very well end up as the GOP nominee. That got a laugh out of Morning Joe regular Mike Barnicle, who was so certain that Trump had zero chance, he offered to buy Mika a brand-new truck if Trump won the nomination.
When Morning Joe opened the Friday show to report the big news about Trump crossing the delegate magic number, the segment included a mention of LawNewz.com's previous legal analysis on the truck bet.
WATCH:
A quick reminder, a few weeks back LawNewz.com decided to have a little fun with the Brzezinkski-Barnicle wager and we reached out to New York City contracts attorney Keith Stein to find out whether Barnicle is obligated to buy Mika the new truck.  Stein analyzed this issued and determined, "Under New York law, a valid contract requires an offer, acceptance, consideration, reliance and capacity to enter into an agreement. It appears all of those elements are met in this case."
Barnicle…. the ball is in your court. Pay up!
Have a tip we should know? [email protected]