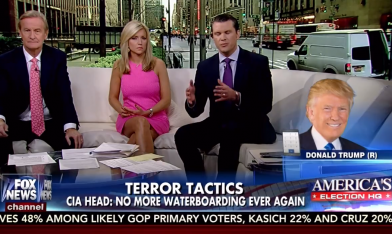 Well, that didn't take long.  GOP presidential frontrunner Donald Trump has already responded to comments made by current CIA Director John Brennan that so long as he remains the head of the Agency, he would refuse to use enhanced interrogation techniques even if ordered to do so by a future president.
As LawNewz.com previously reported, NBC News released a preview clip from an interview with the CIA Director that will air on tonight Nightly News where Brennan is asked to respond to recent comments made by Trump that he would consider using enhanced interrogation techniques against ISIS, including the possibility of bringing back waterboarding and "a hell of a lot worse than waterboarding" if he is elected president.
"I will not agree to carry out some of these tactics and techniques I've heard bandied about because this institution needs to endure," Brennan replied the preview clip from NBC. "Absolutely, I would not agree to having any CIA officer carrying out waterboarding again."
Never one to take criticism lightly, Trump fired right back this morning on Fox & Friends where he seemingly affirmed LawNewz.com Rachel Stockman's observation that a President Trump "may have to get another Director of the Central Intelligence Agency."
"Well, I think his comments are ridiculous," Trump said of the CIA Director's comments. "I mean, they chop off heads and they drown people in cages with 50 in a cage, in big, steel heavy cages, drop them right into the water drown people, and we can't water-board and we can't do anything," he continued.
Trump then added his belief that the current administration's refusal to consider the use of enhanced interrogation techniques is a sign of weakness and a primary reason why we have struggled to defeat ISIS.
"And you know we're playing on different fields. And we have a huge problem with ISIS, which we can't beat, and the reason we can't beat them is we won't use strong tactics, whether it's this or other things. So, I think his comments are ridiculous," Trump reaffirmed.
WATCH: 
Please enable Javascript to watch this video
So, yeah… It is probably a safe bet that a President Trump will not be keeping John Brennan on as head of the CIA. However, it is possible that a replacement search would be more difficult than Trump anticipates.  Brennan is not the only person who has been in charge of the Agency to express these concerns.  President George W. Bush's CIA Director, Michael Hayden, also expressed similar concerns recent interview where he said a future president would have to "bring his own damn bucket" if they ever wanted the Agency to waterboard someone again.
[image via screengrab]
Have a tip we should know? [email protected]