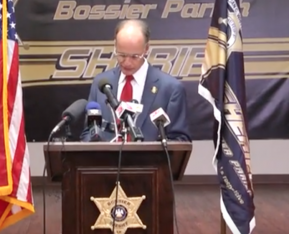 A Louisiana sheriff unloaded on the local Shreveport CBS television affiliate KSLA during a press conference last week.  Bossier Parish Sheriff Julian Whittington accused the station of omitting key facts from a report to make it appear as though race played a role in the arrest of a local teenager last month.
KSLA aired a story on April 22 about a 17-year-old black teen that was arrested and charged with crimes related to allegedly sexting a 16-year-old white teen girl.  The 17-year-old's mother told the station she believed her was son singled out and charged excessively because of his race.  As the Washington Post reports, the internet "outrage machine" went into overdrive once controversial New York Daily News senior justice writer Shaun King picked up on the KSLA report and added more fuel to the fire.
However, all of the outrage was based on incomplete information.  The KSLA report did not mention that the 16-year-old white teen was also arrested and charged for her role in the alleged sexting incident.  In fact, she was actually arrested before the 17-year-old.  Furthermore, KSLA neglected to report that the 17-year-old had allegedly provided a phone to the 16-year-old so that she could send him pictures and videos.
Sheriff Whittington finally had enough of the allegations of racism being hurled at his deputies, so he called a press conference last Thursday to "set the record straight."
WATCH:
"I'm appalled at this reporter who aired this story and injected racism into a case that had not one shred of evidence to indicate that any part of this case had anything to do with racism," Whittington said. "It was a deceitful and totally biased report where facts were omitted to fit the reporter's narrative of racism and make a good story at [five o'clock]."
"If it sounds like this is personal to me, that's because it is,"  Whitting added.  "Our job in law enforcement is difficult enough and dangerous as it is without these lies being told to the public. The real focus of this story should be about young people violating the law, and not racism."
KSLA Vice President and General Manager Joe Sciortino addressed the issue in a statement read on air:
Hello, I am Joe Sciortino, Vice President and General Manager here at KSLA. You will soon see me on our station conducting editorials on issues important to the Ark-La-Tex. And while today, this is not the manner I would have chosen to introduce myself, I would like to address a story we aired just over two weeks ago. The story concerned a male teen charged with sexting and the claim made by his mother that the arrest and charges were racially motivated. While she had the freedom to make her claim. We left out an important fact in the story – that the female teen was charged as well. A fact that the Bossier Sheriff pointed out in a press conference he held last Thursday.

We work to gain your trust every day here at KSLA. Our relationship with local law enforcement, charged with keeping you safe and upholding the law, is very important. We regularly hold public officials accountable. But we must also hold ourselves accountable. After looking into the story, our correction and follow up should have come sooner and been more transparent.

We have taken steps to prevent this from happening in the future. Please know that we are committed to earning your trust every single day.
An updated version of the original KSLA story can be viewed HERE.
[image via screengrab]
Have a tip we should know? [email protected]