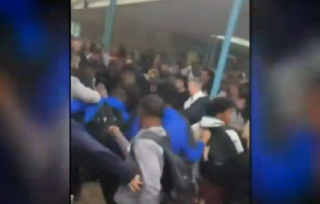 A dozen police officers weren't enough to contain 20 minutes of violence that erupted among roughly 40 students at a Los Angeles high school on Monday. According to NBC4, LA authorities are still investigating a lunchtime brawl at Sylmar High School that left students battered and bloodied. Cell phone video captured the commotion.

Students told KTLA was related to ongoing racial friction between the schools black and Hispanic populations that included conflicts over the weekend. The school was concerned that there could be trouble when students returned on Monday, so they requested additional security. Still, they appeared to be unprepared for the magnitude of the violence, where multiple fights seemed to go on at the same time.
Principal James Lee informed parents that students involved were being punished. While several reportedly suffered bruises, there were no reported serious injuries, as everyone involved walked away.
Have a tip we should know? [email protected]