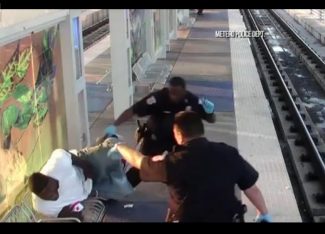 Transit police in Houston on Monday released video of violent encounter between a homeless man and two Houston METRO police officers from earlier this month. In addition to releasing the video, METRO Police Chief Vera Bumpers announced one of the officers involved has already resigned.
Surveillance video captured the scene earlier this month when METRO officers Jairus Warren and D. Reynoso approached Darrell Giles on a rail platform.  The video appears to show Officer Warren repeatedly striking Giles with his police baton during an attempted arrest.
WATCH:
Chief Bumpers on Monday said an investigation by the department's internal review board decided to "sustain all the allegations that Officer Warren did use excessive force in dealing with Mr. Giles, so they recommended termination."
However, Officer Warren had already resigned before the recommendation was made public.  In a resignation letter Warren wrote, "It has been a great pleasure and honor to serve with the METRO police department."
The review board determined Officer Reynoso did not engage in any wrongdoing, however, he will have to go through additional training before returning to active duty.
Chief Bumpers said the department is now hoping to put the incident behind them and said Officer Warren's actions were not reflective of the department as a whole.
"I want to reiterate as I did last week, that this incident is not a reflection of the men and women who work at Metro Police," Chief Bumpers said.
Have a tip we should know? [email protected]