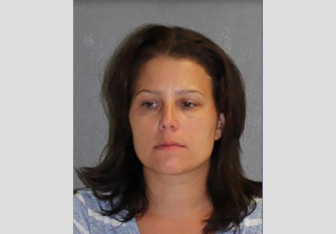 A Florida woman is facing felony charges after police say she drove her three sons around while they shot BB guns at a homeless man.
According to WFTV Channel 9, Amina El-Zayat, 36, was having problems with homeless men rummaging through the dumpster at her family owned car wash.  To solve the problem, police say El-Zayat loaded her three sons into her SUV and told them they could shoot at the "bums" to "scare" them away.
WATCH:
A police report obtained by the news station says a homeless man named Travis Martin called police around 1:00 AM on Sunday morning and told them he had been shot at by a BB guns from a vehicle.
"They all popped their guns out and went right down at me," Martin told the news station.
Martin initially did not wish to press charges, according to the report. However, approximately 20 minutes later, Martin called back and told police the vehicle was back and kids were shooting BB guns at him again.
Police arrived on scene and Martin directed the officers to nearby location where the vehicle had parked.
The report states the officer then had El-Zayat and her children exit the vehicle while he searched for the guns.  Inside the car, police say they recovered two BB guns, one of which was apparently capable of firing 15-pellet bursts.
El-Zayat was arrested and charged with aggravated battery, contributing to the delinquency of a minor, and child neglect.  She is reportedly out of jail after posting bail.  It is unclear if her children, who are all juveniles, are facing any charges.
If this isn't already crazy enough for you, a reporter tracked down and interviewed El-Zayat's husband, who essentially blamed his sons for taking advantage of their mother.
The husband said his wife only wanted to talk to Martin to tell him to stop making a mess of the parking lot by going through the dumpsters.  According to the husband, the sons just started shooting before El-Zayat could stop them.
"She did go there to talk to the guy, to tell him to stop coming there. Not to go shoot him. That's not what we do," the husband told WFTV Channel 9 reporter Kimberly Eiten.
"Then why did she have your sons in the car at 1:30 in the morning with BB guns?" Eiten asked.
"You're one hundred percent right," the husband replied. "It was a big mistake she did and she is paying for it."
[image via Volusia County Sheriff]
Have a tip we should know? [email protected]