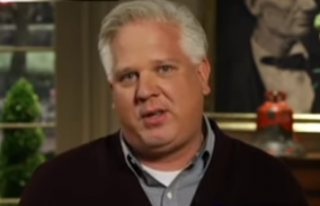 A federal judge ordered conservative pundit Glenn Beck to reveal sources who supposedly gave him information implicating Abdulrahman Alharbi, a Saudi Arabian citizen, in the Boston Marathon bombing.  The order comes as part of a defamation case brought against Beck by Alharbi.  The lawsuit claims Beck said Alharbi was responsible for the terrorist attack, even after he was cleared by the federal government.
According to court documents, Alharbi was as spectator at the marathon and was injured during the bombing. While he was being treated for burns at a hospital on April 15, 2013, government officials questioned him as a person of interest and a target of their investigation. Alharbi also consented to a search of his apartment. He was released from the hospital on April 20.
On April 15 and 16, news outlets reported that Alharbi was a person of interest and a "potential suspect." Beck called Alharbi a "very bad, bad, bad man" on his radio show on TheBlaze on April 19. On April 22, he said that Alharbi was one of three people, along with the Tsarnaev brothers, involved in the bombing, that Alharbi's "clan is heavy with Al Qaeda links," and his ""mission was to recruit fighters that are already in the country." Beck also said that Alharbi was "tagged" as a terrorist.
On April 23, then-Secretary of Homeland Security Janet Napolitano testified before Congress, saying that Alharbi was not involved in the attack. Napolitano said, "He was not on a watch list … he was in the wrong place at the wrong time. He was never a subject. He was never even really a person of interest."
Despite this, Beck continued to say that Alharbi had something to do with it, after Napolitano said otherwise. On April 24, he said that Alharbi was "the worst of the worst," and the following day, he went on Fox News and told Bill O'Reilly that Alharbi was "armed and dangerous" and that he was designated as a terrorist. On May 1, Beck said on TheBlaze that he was not aware of how Alharbi contributed to the attack, but said, "[H]e's involved." On May 8, Beck said that Alharbi was "the guy who actually paid for it," and called him "the money man."
Beck claimed that confidential sources supported his statements.
According to court documents, Beck himself never spoke to the sources, but then-President of TheBlaze Joel Cheatwood and Joe Weasel, who was head of TheBlaze's investigatory documentary unit, did. One source allegedly provided documents that said Alharbi was a "suspected terrorist" and was "armed & dangerous." Another source allegedly was "emphatic that Plaintiff was involved in the Boston Marathon bombing." According to court documents, two sources told Weasel that they believed Napolitano's testimony was false.
Judge Patti B. Saris ordered that the identities of two of Beck's sources must be revealed to the court in order to appropriately rule on Alharbi's defamation case. Those particular sources (two who have already been identified as working for the Department of Homeland Security, and one who is a former Joint Terrorism Task Force Agent) are the ones who supposedly provided information about Alharbi. The court ruled that their identities were necessary in order to speak with them, so that the court could verify what they said. If what they said was true, then the defamation suit would fail, since it would mean that Beck reported accurate information. The sources' identities will be revealed under a protective order. Other sources, who will remain anonymous, gave background information or information regarding Napolitano's testimony.
Judge Saris also added that a third source's identity may have to be revealed, depending on what information they gave. If the source said that Alharbi was involved in funding the Boston attack, then that source's identity will be ordered to be revealed as well.
LawNewz.com reached out to a representative for Beck for comment, but as of this writing they have not responded.
[Image via screengrab]
Have a tip we should know? [email protected]