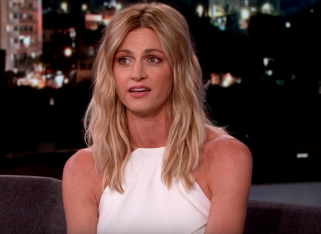 Fox Sports reporter Erin Andrews sat down with Jimmy Kimmel on Wednesday night in her first television interview/appearance since winning a $55 million verdict in her civil lawsuit over the nude videos of her taken by a peeping Tom at a Nashville hotel in 2008.
Andrews appeared on the show to promote the upcoming season of Dancing With the Stars on ABC, which will apparently feature Geraldo as a contestant this season and one of his first performances will pay homage to his infamous Al Capone's Vault TV special from 1986.
The recent news of her big legal victory did come up during the interview as Kimmel managed to approach the issue in a humorous way, by coming right out and asking Andrews if he could have $1 million.
"Hey, maybe this isn't the best place to ask you, but may I have a million dollars?" Kimmel asked.
As Andrews tried to laugh it off, Kimmel quickly got serious and told her that he was happy for her and glad she won the case, while also acknowledging that Andrews could not say much while the appeals are pending.
"By the way, I'm so happy you won that case.  I really am," Kimmel said to a sustained cheer from the studio audience.
Andrews thanked everyone and described the interview as her "coming out of hiding."
"I want to thank everybody.  There were so many people that actually reached out from all over the world really," Andrews said.
Kimmel then said he was glad Andrews got to see the "nice part of the internet" after only seeing the bad part of so many years.
WATCH via ABC:
[h/t Jimmy Kimmel Live!; image via screengrab] 
Have a tip we should know? [email protected]