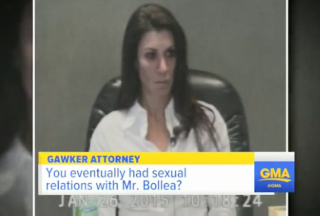 On Wednesday, the jury in the trial for Hulk Hogan's $100 million trial against Gawker viewed video of a deposition of Heather Cole, ex-wife of Hogan's former friend Bubba "The Love Sponge" Clem. Cole is the woman seen having sex with Hogan in the tape that is at the center of the lawsuit. Her testimony seemed to contradict what Hogan (real name Terry Bollea) said on the stand.
While Hogan claimed that Cole pressured him into having sex with her, as if she knew the tape was being made, Cole says she had no idea. She also said that this isn't the first time Clem recorded her having sex with another man.
Clem is not testifying at the trial, invoking his Fifth Amendment right not to incriminate himself. Hogan and Clem have already settled out of court for $5,000.
LawNewz founder Dan Abrams and Nancy Grace appeared on Good Morning America on Thursday to discuss this new information, and how it might influence the jury.
Closing arguments are expected to begin today, and you can watch live video of the trial here on LawNewz.com.
[Image via screengrab]
Have a tip we should know? [email protected]