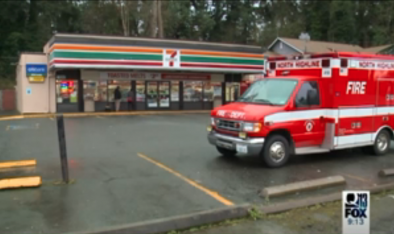 A concealed carry permitted customer is being credited for saving lives after his quick decision to draw his side arm and shoot a masked man wielding a hatchet inside a convenience store in Washington early on Sunday morning.
According to Q13 News, a man wearing a mask entered a 7-Eleven and without saying a word, he started swinging a hatchet towards a customer and the store clerk.  Before the crazed man was able to inflict any serious harm, though, another customer in the store pulled out his concealed weapon and fatally shot the attacker.
Shortly after the shooting, the King County Sheriff's Office responded to the scene and the attacker was pronounced dead. The store clerk suffered minor injuries to his stomach before the customer was able to stop the assault.
Authorities told the news station that the customer is shaken up but he did nothing wrong and they are crediting him with saving lives.
"Fortunately, because of this customer with his weapon, this could have been a lot worse," said King County Sheriff's Sergeant Cindi West.  "The clerk could be the one laying there dead on the floor right now."
Authorities described the alleged attacker as a man thought to be in his 40s and they will release his identity pending further investigation.
[h/t Q13 News; image via screengrab]
Have a tip we should know? [email protected]