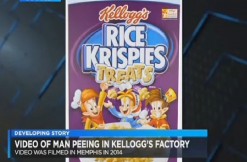 Food manufacturer Kellogg is in so much damage control right now after video surfaced of a man apparently peeing on an assembly line.
The video, originally posted on World Star Hip Hop, shows doing what he did, then panning his camera to show the Kellogg logo. It is included here for the sake of this story, but you know, ew. At least it was mercifully censored by NBC affiliate WRCB:
WMC Action News 5 – Memphis, Tennessee
In a statement to WRCB, Kellogg spokesperson Kris Charles said the video was recorded in 2014 at a factory in Memphis, Tennessee. That means the affected products would have already been sold and eaten by now.
"We have confirmed that products that could have been potentially affected were Rice Krispies Treats, Rice Krispies Treats cereal and puffed rice cake products, all of which would be past expiration date," Charles said.
The company reports that the U.S. Food and Drug Administration is investigation, according to The Associated Press, but the man in the video has yet to be identified.
"For a person to do something like that, he is nasty, low down, dirty," Tennessee native Felicia Hayslett told WRCB. "He should go to jail. Go straight to jail."
[h/t WRCB]
[image via WRCB screengrab]
–
Follow Alberto Luperon on Twitter (@Alberto Luperon)
Have a tip we should know? [email protected]