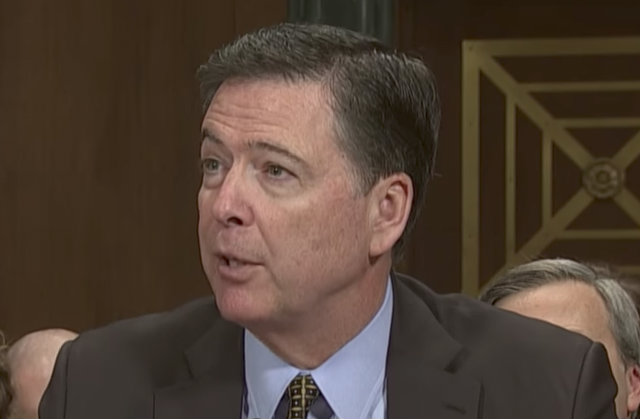 In a wide ranging interview with The New York Times, Trump threw his Attorney General Jeffrey Sessions under the bus for deciding to recuse himself from the Russia probe. A decision Trump called "very unfair" to the president.
But, maybe even more shocking, he claims that FBI Director James Comey tried to hold the salacious dossier over his head, in order to gain "leverage" over him. It had previously been reported that when administration officials briefed the president at Trump Tower in January, Comey pulled him aside and told him about the details of the now infamous dossier which included unverified reports of Trump's sexual encounters while in Russia.
Why did Comey bring this up? Trump has a new theory.
From The New York Times report:
In the interview, Mr. Trump said he believes Mr. Comey told him about the dossier to implicitly make clear he had something to hold over the president. "In my opinion, he shared it so that I would think he had it out there," Mr. Trump said. As leverage? "Yeah, I think so,'' Mr. Trump said. "In retrospect."

The president dismissed the assertions in the dossier: "When he brought it to me, I said this is really, made-up junk. I didn't think about any of it. I just thought about man, this is such a phony deal."
The 35 page document, first published by Buzzfeed, was full of uncorroborated allegations that were comprising for the president was reportedly written by former British spy Christopher Steele .
During congressional testimony in June, Comey said he alerted President Trump to the dossier for the following reasons (very different from what Trump contends):
The IC leadership thought it important, for a variety of reasons, to alert the incoming President to the existence of this material, even though it was salacious and unverified. Among those reasons were: (1) we knew the media was about to publicly report the material and we believed the IC should not keep knowledge of the material and its imminent release from the President-Elect; and (2) to the extent there was some effort to compromise an incoming President, we could blunt any such effort with a defensive briefing
Comey was asked by a Senator Richard Burr whether the FBI was able to confirm any criminal allegations contained in the document.  Comey told the senators that he couldn't answer the question in the public forum because it might go into some details of the ongoing public investigation.
Have a tip we should know? [email protected]
Rachel Stockman - President / On Air Host