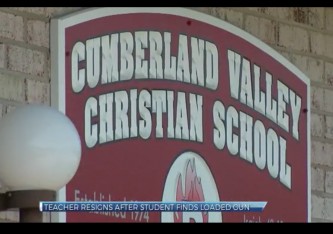 A Pennsylvania preschool teacher has reportedly resigned amid allegations that she left a loaded gun in a school bathroom.  Several young students at the school reportedly used the restroom while the loaded gun was left unattended.
Your4State.com, a local news affiliate, spoke with Cumberland Valley Christian School administrator, Pastor Mike Sanders said the incident actually took place several weeks ago.  Sanders contends that the first-year preschool teacher was licensed to carry a weapon, but an investigation showed she left it unattended in the school bathroom for several hours.
Sanders said he has now implemented a new gun policy at the private school, requiring all teachers to receive prior approval before bringing a gun into the school.
WATCH:
Meanwhile, ABC27.com  reported on Tuesday afternoon that the teacher, identified as Beth Jean Dixon, 63, resigned her position and Pennsylvania State Police have charged her with endangering the welfare of children.  State police investigators said they conducted an investigation into the incident and Dixon admitted her mistake during questioning, telling investigators she left the loaded gun unattended for several hours.
The police investigation also revealed at least four children between the ages of six to eight years old used the restroom while the gun was left unattended.
There is no information available on when Dixon is set to appear in court.
Have a tip we should know? [email protected]