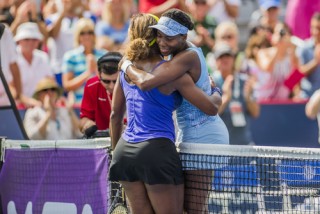 Russian hackers have done it again.
On Tuesday, a group known as Fancy Bears' Hack Team broke into the database of the World Anti-Doping Agency (WADA), which handles drug testing for the Olympics and various other international sporting events. Their goal? To scrutinize American athletes and brand them as dopers the way that the Russians have been as of late. WADA confirmed the hack's authenticity in a statement.
"After detailed studying of the hacked WADA databases we figured out that dozens of American athletes had tested positive," they wrote. (Note: We're not linking to their site.) "The Rio Olympic medalists regularly used illicit strong drugs justified by certificates of approval for therapeutic use. In other words they just got their licenses for doping. This is other evidence that WADA and IOC's Medical and Scientific Department are corrupt and deceitful."
What the hackers are referring to is the "therapeutic use exemption" (or "TUE") policy that WADA and similar organizations have in place. That allows an athlete to ask for permission to use a banned substance for its intended, on-label medical use. The likelihood depends on a number of factors. For example: An asthma inhaler that contains something that can be a performance enhancer in larger doses is a lot more likely to be approved than something like testosterone replacement therapy in most circumstances.
With the Russians and other former Eastern Bloc countries being scrutinized over the widespread use of Meldonium, the Fancy Bears suspected hypocrisy and went to work. The most famous athletes they've targeted are tennis's Venus and Serena Williams, who had various exceptions for different forms of corticosteroids. Sometimes confused with anabolic androgenic steroids, which are derived from testosterone, corticosteroids are based on cortisone, the stress hormone. In recent years, they have become increasingly scrutinized as performance enhancers, but they have very legitimate uses for sports injuries and numerous illnesses.
In WADA's statement, Olivier Niggli, the organization's Director General, said that "WADA deeply regrets this situation and is very conscious of the threat that it represents to athletes whose confidential information has been divulged through this criminal act." He added that "these criminal acts are greatly compromising the effort by the global anti-doping community to re-establish trust in Russia."
[Photo: Shutterstock]
Have a tip we should know? [email protected]