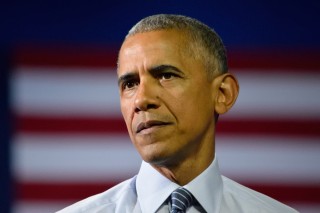 As we reported earlier Wednesday, President Barack Obama announced the nomination of the first Muslim American lawyer to serve on the United States District Court for the District of Columbia.
Obama Nominates First Muslim American to Serve as Federal Judge https://t.co/uzRnKNDRdX pic.twitter.com/As88i89rKS

— LawNewz (@law_newz) September 7, 2016
Not much has been reported on Abid Riaz Qureshi other than he graduated cum laude from Harvard Law School, and spent his entire career at the high-profile and well-respected law firm Latham & Watkins LLP.  Seems pretty qualified. Despite that, simply relying on the fact that he is Muslim, the news has sparked some ridiculous online fear mongering, including from conservative websites like Breitbart.com. They sent out this lovely tweet:
Pack it up, folks. Fun country while it lasted… https://t.co/shO7T1KX7q

— Breitbart News (@BreitbartNews) September 7, 2016
Interestingly, Breitbart's article mentions nothing about why Qureshi's nomination would ruin the country, nor does it mention any credentials that would make him unqualified. Instead, they write: "Qureshi currently works for the firm Latham & Watkins LLP on health care fraud and securities violations. He graduated from Harvard Law School cum laude in 1997."  Breitbart's tweet inspired more:
@BreitbartNews sharia law isn't far behind. Vote trump..

— Jerry Reed (@jerryreed31) September 7, 2016
@BreitbartNews omg we need trump, these fcking muzzies r taking over and the Dems and Repubs r happy to do it.

— Jack (@Bloodylouver) September 7, 2016
And it goes on:
An American judge subservient to Sharia law by definition as a Muslim. What could go wrong? https://t.co/7bIJ6DoHNm

— Furious Nation (@FuriousNation) September 7, 2016
Obama Nominates First Muslim American to Be a Federal Judge#Obama NOT until they behave themselves! https://t.co/ysNkMnPuCw

— OneAngryVoter (@lizzysherwood) September 7, 2016
Islam and sharia law are not compatible with our constitution. What is happening to our country? https://t.co/lghwh7jxSo

— Mike Tiedemann (@tiedemann_mike) September 7, 2016
Of course, nothing on Qureshi's bio indicates any desire to implement Sharia law in the United States. In fact, just the opposite.
Mr. Qureshi has particular expertise in matters involving allegations of:
False Claims Act liability
Violations of the federal securities laws
Healthcare fraud and abuse
Much of the outrage appears to come from Trump supporters who also urged followers to "vote Trump." Earlier this spring, Trump took aim at federal Judge Gonzalo Curiel because of his "Mexican heritage."
This is an opinion piece. The views expressed in this article are those of just the author.
Rachel Stockman - President / On Air Host