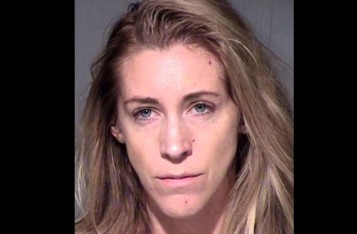 An Arizona woman is currently on trial after prosecutors say she flashed boys between the ages of 11-15 at a bar mitzvah party.  The woman is also accused of performing a sex act on a 15-year-old boy during the party.
Lindsey Ann Radomski faces 18 charges in all over the alleged incidents, which prosecutors say took place late in the evening after a party at her boss's home.  The Daily Mail reports the 34-year-old yoga instructor was arrested last year after parents contacted police upon hearing stories of the alleged incidents.
Radmonski finally took the stand in her own defense on Tuesday, where she apparently acknowledged knowing that she had lifted her shirt and flashed her newly enhanced breasts while there were boys in the room on two occasions, according to local reports.  She also admitted taking several shots of vodka and drinking tequila and wine during the evening in the lead up to the alleged incidents.
WATCH MORE FROM FOX IN PHOENIX:
She broke down in tears and referred to flashing her breasts as the "most obscene moment of her life" while on the stand.
At an earlier point in the case, her attorney alleged that she had unknowingly been slipped the date-rape drug GHB by an unidentified 18-year-old male.  He argued she is the real victim in this case and the drug made her unable to consent to any sexual contact on that evening.
Prosecutors disagree, saying the levels of GHB in her system were no higher than what would be naturally expected to show up on a test.
They have also accused the woman of allowing some of the boys to touch her breasts during the party.
A grand jury originally failed to return an indictment against Radmonski, reportedly citing a lack of evidence.   The prosecutor then went a different route and obtained an indictment though the Scottsdale City Court.
Closing arguments are expected to take place today.  Radmonski faces more than six-months in jail and three-years of probation if convicted.
Have a tip we should know? [email protected]