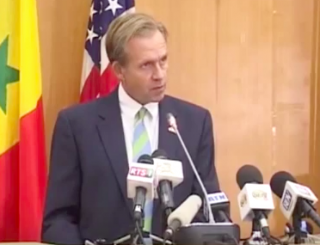 Tom Fitton, the president of the conservative watchdog group, Judicial Watch, told LawNewz.com that a recent deposition of Clinton aide, Lewis Lukens was "not helpful" to Hillary Clinton or the State Department. He remarked that everyone, including investigators, should be interested in what he had to say.
Lukens was the deputy assistant secretary of state and executive director of the State Department's Executive Secretariat from 2008 to 2011. According to his LinkedIn profile, he directed "all administrative, logistics, human resource, and financial support for Secretary of State Hillary Clinton and senior State Department leadership." Judicial Watch says Lukens emailed with Patrick Kennedy and Clinton's chief of staff Cheryl Mills about "setting up a computer for Clinton to check her clintonemail.com email account."
Lukens was deposed by Judicial Watch attorneys on Wednesday as part of their Freedom of Information Act case.  As we previously reported, federal Judge Emmett Sullivan said that the depositions were necessary to determine whether the State Department conducted an adequate search in responding to Judicial Watch's Freedom of Information Act request regarding the employment records of Clinton aide Huma Abedin. Judge Sullivan also said Clinton herself could testify at some point.
Fitton said the transcript of Lukens' deposition will be made available to the public, possibly as soon as next week.  Until the government can respond, Fitton is legally prohibited from revealing too many details.
However, Fitton did say he sat in during the 2 hours deposition, and remarked that "everyone is going to be interested in this…. It doesn't help Mrs. Clinton or the State Department.  (Federal) investigators may have an interest in the testimony.  One would hope that investigators would have an interest in all the testimony."
Clinton's former Chief of Staff Cheryl Mills is expected to be deposed next Friday.  Stephen Mull, Bryan Pagliano, Huma Abedin, and Patrick Kennedy are also all slated to be deposed.
"This is about the public — and the publics right to know," Fitton said.
However, University of Baltimore Law Professor Charles Tiefer is skeptical that the depositions will amount to anything — they are more smoke, than fire, he says.
"This civil case has nothing to do with the separate investigation by the FBI (and prosecutors) of emails with content that is retroactively deemed to be classified.  There, the case involves whether she intentionally revealed or secreted classified material. The crux of that case is that she never had the intent necessary for a criminal violation.  Whatever the contentions in the civil case, they do not even touch on classified information, let alone have to do with any criminal intent to reveal classified material," he wrote in a Forbes opinion piece.
Have a tip we should know? [email protected]
Rachel Stockman - President / On Air Host