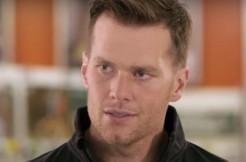 After a federal appeals court reinstated quarterback Tom Brady's "deflategate" suspension, 93-year-old Warren Lessing—veteran of the Second World War—wrote judges to shame them about what he thought was a miscarriage of justice.
Here it is, as obtained by CBS: a real letter, sent to the actual U.S. Court of Appeals for the Second Circuit.
Gentlemen:

I am a 93 year old WW II veteran and I have always found it prudent to invoke my disclaimer, in matters such as this, to voice my personal opinion as guaranteed by the U.S. Supreme Court under Freedom of Speech.

While I did not expect a reply, I wrote to Roger Goodell regarding the above, as I am sure thousands of football fans did the same, stating that I thought it was a stupid, asinine ruling. In the meantime you overrule the judge who rightfully, and sensibly, tried to put an end to it, so I am telling you the same thing.

Correct me if I am wrong, but isn't this still the United States where a person is innocent until proven guilty? Tom Brady was never proven guilty. Don't you have anything more important to do?

Very truly yours,

Warren B. Lessing
Lessing doubled down on comments in an interview with WBZ NewsRadio. He's more of a New York Giants fan, but thought Brady got unfair treatment.
"I don't know why it never came up before with anybody else, with all of the teams, 32 teams in the country, and something like this never came up before," he said. "It seemed like they were just targeting them. I really don't know, but that's what it seems like."
If you're not a sports fan, the "deflategate" debacle started in January 18, 2015: the AFC Championship Game between the Indianapolis Colts, and Brady's New England Patriots. The latter team was accused of using balls that were insufficiently inflated.
"Flatter" balls are easier to grip, a simple but meaningful advantage for the offense. Brady denied the allegations, but the NFL later suspended him for four games in the 2015-2016 season. The NFL Players Association and the quarterback fought back in court. Brady was saved shortly before the season, when a U.S. District Court threw out his suspension.
The most recent major development: The appeals court overruled the lower court on April 25. So as things stand, Brady will be suspended for four games in the 2016-2017 season.
His attorneys are expected to file for a rehearing by May 23.
–
Follow Alberto Luperon on Twitter (@Alberto Luperon)
Have a tip we should know? [email protected]