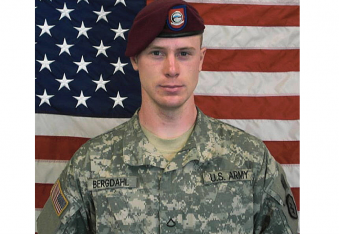 Attorneys representing Bowe Bergdahl filed a motion on Monday that seeks to have all of the charges against their client dismissed.  The motion claims Bergdahl's due process rights were violated, citing statements made by Senate Armed Services Committee Chairman John McCain.
Bergdahl walked off his base in 2009 and was held captive for nearly five-years, before he was released as part of a controversial prisoner swap in 2014.  After a lengthy investigation into the circumstances of his disappearance, Bergdahl was charged in 2015 with desertion and misbehavior before the enemy.  He is currently awaiting a court-martial scheduled to begin in February 2017.
The motion filed on Monday cites a number of statements by Sen. McCain over the past year related to the Bergdahl case.  For example, the motion refers to a comment made by Sen. McCain during a campaign event in October 2015 for then-GOP presidential primary contender Sen. Lindsey Graham.
"If it comes out that [SGT Bergdahl] has no punishment, we're going to have a hearing in the Senate Armed Services Committee," McCain said, according to the motion.  "… And I am not prejudging, OK, but it is well known that in the searches for Bergdahl, after — we know now — he deserted, there are allegations that some American soldiers were killed or wounded, or at the very least put their lives in danger, searching for what is clearly a deserter.  We need to have a hearing on that."
In the motion, the attorneys argue this statement, along with additional remarks made by Sen. McCain, constitutes the improper interference of Congress in a court-martial proceeding.
"It is difficult to imagine a more blatant threat to the fair administration of military justice than the one Sen. McCain uttered," the motion states.
The attorneys further argue the remarks, and especially the "threat" of a hearing, call into question the fairness the proceedings against Bergdahl.
The motion states, "The court should dismiss with prejudice both charges and the specification thereunder because any other action would leave a cloud over the independence of the proceedings and deny SGT Bergdahl due process of law under the Fifth Amendment."
In the alternative, the motion argues a "no punishment" order is warranted in the event it is decided to proceed with the court-martial.
READ the MOTION HERE:
Bowe Bergdahl Motion to Dismiss
Have a tip we should know? [email protected]