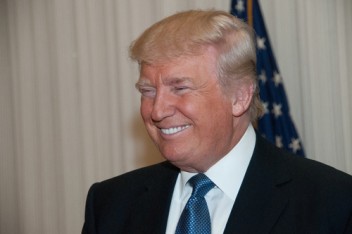 Late Tuesday afternoon, Federal Judge Gonzalo Curiel denied Donald Trump's motion for summary judgment in the Trump University case, finding instead that there is enough evidence to move forward with the case.  The class action lawsuit alleges that Trump University defrauded students out of thousands of dollars.
"The Court agrees with Plaintiff that the evidence in the record raises a genuine issue of material fact as to whether Defendant (Trump) participated in the operation or management of the enterprise," Judge Curiel wrote in his order in response to Trump's motion for summary judgement.
Judge Curiel also found that there was a genuine issue of material fact as to whether Trump "knowingly participated" in the "scheme to defraud" and whether he made representations that were "false and misleading." Trump's attorney filed a motion to essentially get the case dismissed, stating that Trump was not integrally involved in the running of the organization, and that evidence from depositions showed that there was not enough to proceed with the case. Judge Curiel didn't agree, finding the plaintiffs had presented sufficient evidence to survive the summary judgment motion. Curiel is the same judge who was the subject of Trump's public comments about his "Mexican" heritage earlier this spring.
In a separate order, Judge Curiel ruled against media organizations seeking to get Trump's videotaped deposition released.  Trump sate for two depositions under oath in December and January. Trump's attorneys argued that releasing the videotapes could taint the jury pool, whereas the media organizations argued it was in the public interest to release the videotapes.
"The Court finds that Defendants' argument has some merit. Courts have expressed caution about the release of litigation documents in audio or video form, which are which are 'subject to a higher degree of potential abuse' than written transcripts," the order states.
Judge Curiel also ran through a lengthy list of items both in favor and against disclosure before ultimately concluding Trump has "established good cause to bar the further dissemination of the deposition videos."
"Ultimately, [v]ideotaped depositions are permitted to facilitate the presentation of evidence to juries; they are not intended to provide 'a vehicle for generating content for broadcast and other media," Judge Curiel concluded.
READ the ORDERS HERE:
Trump U Order Denying Media Intervenors Motion
Have a tip we should know? [email protected]