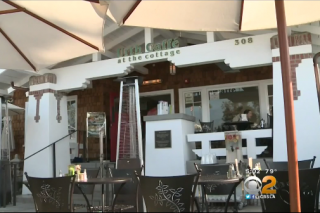 Attorneys for the California cafe that's being sued by seven Muslim women who claim they were asked to leave because they're Muslim say that the women fabricated the discrimination claim. Sarah Farsakh claimed that she and her friends were escorted out of Urth Caffé by police because they were dressed in traditional Muslim clothing. Farsakh said that they were told they had overstayed the 45-minute time limit for staying at a table, but said she didn't believe that because others had been there longer.
The restaurant denies any discrimination, and is now preparing to countersue Farsakh, as well as the Council for American-Islamic Relations (CAIR), who they say supported and organized the lawsuit. The restaurant is being represented by the American Freedom Law Center (AFLC). According to a statement released by the AFLC, Urth's co-owner Jilla Berkman, who is Muslim herself, authorized the call to the police because Farsakh and her friends "were loud and abusive to the Urth Caffe employees and refused to give up their table per the stated policy." The statement says that Farsakh is an activist who "self-promotes her involvement in radical organizations."
David Yerushalmi, senior counsel and co-founder of the AFLC, called Farsakh's lawsuit "a fraud and a hoax on the courts and the media." He said in a statement:
a large number of young people, including a majority of whom are Muslim and of Arab descent, make up the base of Urth Caffe's customers.  Not surprisingly, many of these customers are women wearing hijabs.  None of these other Muslim women were asked to leave.
Yerushalmi told LawNewz.com that Farsakh and her friends were initially only asked to change tables, because they were seated outdoors in a popular location. He said the restaurant's policy is to not let customers sit in the high-demand spot for too long. It was only when they refused to move that the restaurant called the police, and even when cops showed up, they didn't leave for another 20-30 minutes.
AFLC's other co-founder and senior counsel, Robert Muise, addressed the involvement of CAIR, pointing out that the FBI has a policy limiting its interaction with the organization. That policy was instituted after a 2007 trial revealed evidence that CAIR has links to Hamas, a designated terrorist organization. He said in a statement, "It is not surprising that the FBI has publicly terminated its outreach activities with CAIR.  Moreover, this fraudulent lawsuit is what the Muslim Brotherhood itself describes as "civilization jihad.'" He added that the AFLC has successfully defended against CAIR lawsuits in the past. "This case will be no different. We intend to sue Farsakh and her co-conspirators for trespass and to seek damages for filing this fraudulent lawsuit."
[screengrab via CBS]
Have a tip we should know? [email protected]