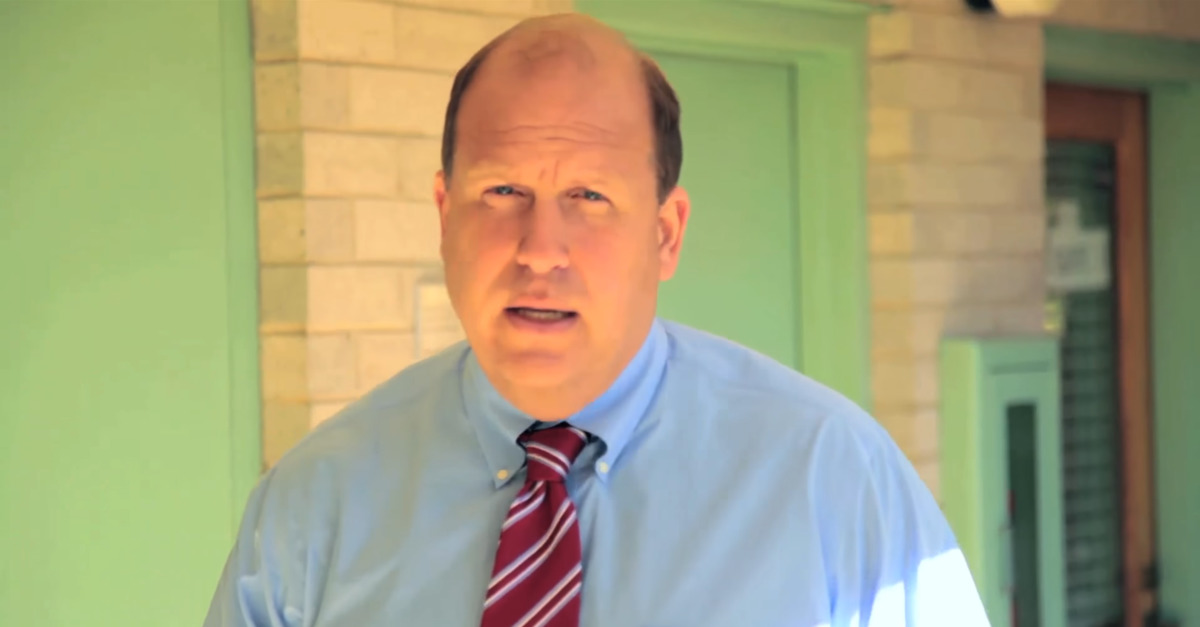 Pennsylvania State Senator Daylin Leach is a member of the Democratic Party who has cultivated a large online following for his vociferous, withering and occasionally swear-worded attacks on President Donald Trump. Now Leach is facing calls to resign over renewed allegations of sexual misconduct.
According to Penn Live, Cara Taylor recently submitted a private criminal complaint to dozens of Pennsylvania lawmakers alleging that Leach coerced her into performing oral sex on her when she was 17-years-old–a minor under Pennsylvania law. Leach vehemently denies the claims and believes they are the work of partisan opponents.
"[The allegations] are preposterous," Leach said Thursday. "I have never even so much as shaken hands with Cara Taylor."
In 1991, at the time of the disputed incident, Leach was 30-years-old and defending Taylor's mother in a criminal case.
In response to the allegation, Democratic Governor Tom Wolf reiterated his opinion–from two years ago–that Leach should resign.
In 2017, former campaign and legislate staffers said that Leach often crossed the lines of propriety by making sex jokes and–in two cases–with unwanted touching that made women feel uncomfortable. Leach generally denied the allegations but also apologized "for ever saying or doing anything that has made anyone uneasy, uncomfortable, or distressed."
At the time, Wolf and others called on Leach to resign.
"Governor Wolf's position on Senator Leach has never changed," Wolf's spokesperson J.J. Abbott said on Friday while addressing sexual assault allegations against Republican State Representative Brian Ellis.
In a lengthy statement titled "Why I am Suing" released on Thursday, Leach rubbished the accusations.
In politics, one is often attacked, sometimes in highly personal, dishonest and misleading ways," Leach's statement reads. "However, recently I became a target in a way that is beyond what a public official would normally expect, and most human beings could endure. As a result people I've never met feel free to call me names on social media, and spread all kinds of rumors, no matter how bizarre, improbable or impossible they are."
The statement continued:
[A] small group of 6-8 people has now taken to showing up at my events, storming in, screaming obscenities at people, and holding up horrific and defamatory signs. They, led by a convicted perjurer, are also posting provably false stories on social media, circulating them to my colleagues, and demanding that I be uninvited to events.
The Democratic state senator also said he was readying readying a defamation lawsuit to be filed within the "next couple of days."
"I will file a lawsuit for defamation in the Court of Common Pleas of Philadelphia County against some of the leaders of the effort to defame me," Leach noted. "Everyone involved, including myself, will testify under oath and the truth will be revealed."
Meanwhile, Senate Democratic Party leaders in the Keystone State–which is actually a commonwealth–have retained outside counsel to investigate the sexual misconduct allegation against Leach.
"I've asked outside legal counsel to review the matter and provide me with a report as it relates to what's been alleged in [Taylor's] complaint," Senate Minority Leader Jay Costa said on Thursday. "That's our next step."
According to the Pittsburgh Post-Gazette, Leach has said he will fully cooperate with the investigation. He is not currently under criminal investigation.
[image via screengrab/YouTube/Daylin Leach for Congress]
Have a tip we should know? [email protected]