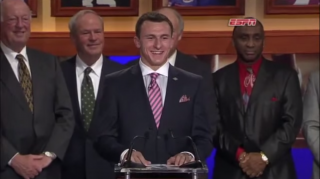 As LawNewz.com's sports columnist, Tony Illakostas, predicted, quarterback Johnny Manziel has been indicted by a Dallas County Grand Jury, according to several local reports. He is facing one misdemeanor count of assault with bodily injury. The charges stem from a January incident in which the 23-year-old is accused of hitting his ex-girlfriend Colleen Crowley.
LawNewz.com's Illakostas summarized the ex-girlfriend's affidavit:
In short, Crowley asserts in the affidavit that she was with friends on the night of January 29, 2016 when they were going to have an after-party in their hotel and invited Johnny Manziel to join.  Manziel was present, but Crowley's friends left the hotel while Crowley and Manziel were in the hotel room alone.  Crowley and Manziel began to talk about relationship issues when Manziel threw Crowley on the bed and restrained her from leaving the room, according to court records.  Crowley allegedly tried to fight Manziel off and ultimately dragged her downstairs to the hotel valet, who she begged to help her and the valet did nothing.  The affidavit further asserts that the argument became increasingly verbal and violent.  Manziel allegedly chased Crowley down after she jumped out of the car and tried to flee from Manziel.  She was unsuccessful, as the affidavit documents Manziel dragging Crowley by her hair and slammed her left ear to the extent that Manziel's physical contact ruptured her eardrum. Worst of all, according to Crowley, Manziel threatened to kill her and himself. Manziel has been on the defensive, though.
Manziel has denied this happened, according to TMZ Sports. CBS Dallas reports that police decided to present evidence to the grand jury instead of arresting him at the time. The Dallas County District Attorney's office is expected to officially announce the charges on Monday. Manziel was released from the Browns in March.
[Screengrab via ESPN video]
Have a tip we should know? [email protected]
Rachel Stockman - President / On Air Host