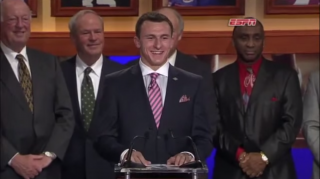 In a recent LawNewz.com piece, I documented the legal and moral transgressions of NFL quarterback Johnny Manziel.  From his erratic behavior during college to his partying tendencies, it's safe to say his conduct puts his employment in the NFL in serious danger.  The Johnny Manziel saga resumes and it's getting worse by the minute.
Last week, Dallas police announced they would investigate Johnny Manziel after an affidavit was filed in court alleging the details of a domestic violence dispute between him and his now ex-girlfriend Colleen Crowley.  The details of this ordeal were made available to the public yesterday, and they are very disturbing.
In short, Crowley asserts in the affidavit that she was with friends on the night of January 29, 2016 when they were going to have an after-party in their hotel and invited Johnny Manziel to join.  Manziel was present, but Crowley's friends left the hotel while Crowley and Manziel were in the hotel room alone.  Crowley and Manziel began to talk about relationship issues when Manziel threw Crowley on the bed and restrained her from leaving the room, according to court records.  Crowley allegedly tried to fight Manziel off and ultimately dragged her downstairs to the hotel valet, who she begged to help her and the valet did nothing.  The affidavit further asserts that the argument became increasingly verbal and violent.  Manziel allegedly chased Crowley down after she jumped out of the car and tried to flee from Manziel.  She was unsuccessful, as the affidavit documents Manziel dragging Crowley by her hair and slammed her left ear to the extent that Manziel's physical contact ruptured her eardrum. Worst of all, according to Crowley, Manziel threatened to kill her and himself. Manziel has been on the defensive, though. Manziel has denied hitting Crowley or threatening to claim his life and her life, according to TMZ Sports.
If the allegations of domestic violence are accurate, there's no doubt that Manziel will be charged with assault.  Texas Penal Code § 22.01(a)(1) provides one of the definitions of assault as intentionally, knowingly, or recklessly causing bodily injury to another.  §22.01(b) elevates assault from from a Class A misdemeanor to a third degree felony if this is the subject of dating violence, as per Texas Penal Code §71.0021(a).  It is equally likely the Manziel could be subject to charges under Texas's aggravated assault statute.  Aggravated assault, as prescribed in Texas Penal Code §22.02, is a felony in the second degree if the person commits assault under §22.01 and causes serious bodily injury to another.  The catch with Texas's aggravated assault statute is that the offense could become a felony in the first degree if the assault was an act of dating violence.
In analyzing this case, this is a cookie cutter case of domestic violence.  If the affidavit that Crowley submitted is factually correct, then all the elements of assault under Texas law have been satisfied.  Whether Manziel was sober or drunk, his state of mind was clear.  He had to have knowledge or intend to hurt Crowley on the night in question.  Certainly there was a build-up in the hotel room and it carried over into the course of the evening.  Additionally, a reasonable person would consider rupturing an eardrum and pulling hair qualifies as a serious bodily injury. Manziel allegedly threatened to kill Crowley and take his own life.  That threat of violence satisfies the conditions of assault at its core. And as to whether this was an act of dating violence, it definitely was.  Texas Penal Code §71.0021(a) defines dating violence as an act committed against a victim with whom the actor has or has had a dating relationship with.  According to the affidavit Crowley filed, she and Manziel were dating for two years before their break-up.
The sanctions for domestic violence convictions will vary here.  If Manziel were to plead not guilty, stand trial, and be convicted for assault as a third degree felony, he could face a 2 to 10 year prison sentence.  However, if he were convicted for aggravated assault as a second degree felony, he could face 2 to 20 years in prison.  If the aggravated assault charge is elevated to first degree felony, Manziel could face life in prison.
Surely, Manziel will raise defenses that he didn't intend to harm Crowley.  But if Manziel is ultimately charged, this will be a case for the prosecution to truly satisfy the burden of "proof beyond a reasonable doubt" if they want to convict Manziel.  This will require gathering as much evidence as possible, from surveillance footage at the hotel where the valet allegedly did nothing to help Crowley to gathering witnesses who may have seen or heard anything that will be useful to this case.
As weird as it sounds, even though he's only 23 years old, I wouldn't eliminate the possibility that Manziel is suffering from early onset of chronic traumatic encephalopathy, or CTE for short.  CTE is a brain disease that is common among football players who suffer multiple concussions over the course of their career. CTE's were brought to the forefront recently in the movie "Concussion" which is based on the real-life story of Bennet Omalu, the doctor who first discovered the CTE epidemic among NFL players. I entertain this thought because former Kansas City Chiefs linebacker Jovan Belcher was confirmed to have suffered from early signs of CTE when the 25-year-old killed his girlfriend and himself.  Recently, in light of the 20th anniversary of the OJ Simpson criminal trial, Dr. Omalu commented that the former Bills running back very likely suffers from CTE which is likely what caused his violent behavior after his career ended.
We wait to see what the future holds in store for Manziel in the coming days or weeks, but if all the evidence is pointing the way it is, the future for Johnny Manziel looks awfully bleak. However, no charges and been filed.
Tony Iliakostas is a sports law contributor for LawNewz.  He is the founder and host of his own sports law video blog called "Law and Batting Order."  You can follow Law and Batting Order on Facebook and Twitter, and you can follow Tony on Twitter.
[Screengrab via ESPN video]
Have a tip we should know? [email protected]